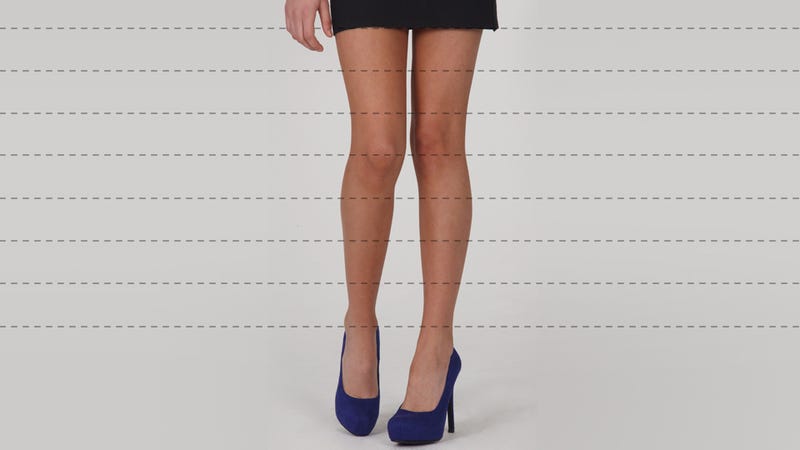 The Hemline Index — the notion that hemlines rise during economic upswings, and head towards the floor in downturns — is still kicking around. And for no good reason, frankly, because it's an unreliable indicator of anything beyond fickle fashion trends. And yet it persists, year after year, season after season. What is it that makes the hemline index such a popular myth, and what does its enduring power say about how we view women's economic activity?
Business Insider this season proved that, on average, the New York designers showed shorter skirts and dresses for fall 2012, compared with those they showed for fall 2011. It did this by looking at photos of every runway look presented by 25 top women's wear brands, including Marc Jacobs, Jason Wu, J. Crew, and Michael Kors:
The BI Hemline Index is calculated by measuring hem length as a percentage of the length from floor to waistline. The shorter the hemline, the higher the index. Overall, average hemlines in 2012 registered a 44.38 on the index, up from 35.04 for the Fall/Winter 2011 collections. Complete looks from each designer were measured, however skirts and dresses were the only data points fed into the data set. Measurements were taken from images provided post-show.
Okay. Hems on average got shorter this season. Good job! Someone's eyes work. But what Business Insider has not proved is that hemlines have any relationship whatsoever with the overall economy. That assertion — that the so-called Hemline Index is actually, you know, real, or as Business Insider put it in its headline, "Skirts Are Getting Shorter And That's Bullish For The Economy" — is a belief that goes unexamined in the piece.
There are a number of problems with the "hemline index." For one, it represents a misunderstanding of the fashion industry on multiple levels. The first and most obvious problem is that designers no longer "set" hemlines. The time when American women were simply waiting for Big Fashion to tell them "how high" — if that time ever really existed — ended long ago. Fashion critics haven't been dispatched to the shows to find "the" hemline since the early 1970s, and fashion editors do not sit around conspiring to make the American public Think Pink (or to Think Miniskirts).
In any given season, different designers will present different ideas of what they think is modern and original (or, more cynically, of what they and their respective subscription trend-forecasting services believe will be commercially desirable in six months' time). The runway is a hopper into which many incipient trends are fed. Hems on the catwalk will be low, high, midi, mini, maxi, calf, handkerchief, mullet — you name it, someone will show it. And what women will actually choose to wear when the seasons change? That depends on even more variables. For the hemline index to be real, or even possible, there would have to be A Hemline. But there isn't.
That much is evident even in the photographs Business Insider chose to illustrate its story — which depict all kinds of hemlines. A sizable minority of the designers BI chose to focus on (including highly influential names like Alexander Wang, Donna Karan, and Carolina Herrera) actually showed skirts and dresses that were on average longer than those they showed last year. Fashion design just isn't about handing down a "new" skirt length from on high. (Besides, I hear a lot of women wear pants these days.)
But even in the days when fashion was a more hierarchical industry, when you could tell last season's skirt from this season's by its length and silhouette, hemlines had no predictive value to the wider economy. The hemline index has been extensively studied and debunked by academics. Most recently and perhaps most comprehensively, Marjolein van Baardwijk and Philip Hans Franses of the Erasmus School of Economics made a note of the lengths of skirts that appeared in the French fashion magazine L'Officiel every month from 1921-2009. They found that skirt lengths "have no predictive ability for the state of the economy." (Yes, that sentence had to be written in a journal article. Despite the fact that believing shorter skirts foretell better economic conditions is, if you think about it for about, oh, a half a second, the economic equivalent of believing those Iranian clerics who hold that women's skimpy clothing causes earthquakes.)