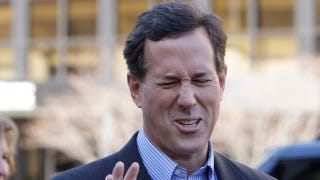 At this point, Rick Santorum has yammered on about so many things that sometimes we feel like we know him better than we know ourselves. (This saddens us, and makes us want to know ourselves better.) But Lil' Richard still has some surprises up his sleeve! Some digging has revealed that he has a very dark secret stuffed away in a tiny cubbyhole in his heart.
Before you start twitching so hard you pull a muscle, you should know it wasn't like he was out crusading for women to do as they damn well please. But Santorum was pro-choice. He was very moderate in his position, but still, that's about 100,000 miles to the left of where he lives now in Righteous Hollow. This revelation comes courtesy of the Huffington Post, who did some prying into his past campaigns and uncovered a whole different Rickles than the one we know and love today.
For starters, let's establish a baseline on today's Santorum. Yesterday, one of his spokesmen, Hogan Gidley, told MSNBC that Rick had the advantage on social issues because, "I mean, that's who he is. He doesn't have to tack to the right on social issues like Mitt Romney because he actually firmly believes those things." Okay, so from that you'd glean that these beliefs were part of his essential being, an innate set of values that he developed independent of politics. Well, you'd be wrong.
Let's turn our attention back to that glorious year 1990 when Rick first ran for Congress. The Huffington Post uncovered his campaign's statement on abortion which sounds so reasonable that it's almost impossible to believe it was spat forth from the frothy mouth of Santorum.
Abortion is such a deeply wrenching issue because it poses a conflict between essential values. The unborn child's very life is at stake; the mother's future often hangs in the balance too, as an unwanted pregnancy can be unspeakably traumatic as well as limiting her educational, personal, and job opportunities.
Whoa, that's the first I've heard of him caring about what happens to mothers! He then continues, saying, "a sensitivity to the genuine concerns of both sides is needed." He doesn't think the government should be funding abortions—and the goal is to not have any abortions—but he understands that "it is very difficult to criminalize any activity once a large portion of society comes to see it as a 'right.'" So he had no plans to actively block abortion, instead he wanted to use the government to "reshape the current social consensus" away from supporting abortion.
The real kicker is that he says he definitely supports abortion in cases of rape, incest, and if the mother's health is in danger. That sounds positively rational and progressive compared to the Santorum of today, who no longer supports exceptions of any kind—even in the case of space alien rape, probably.
Anyway, fast forward to 1995, when Rick is interviewed in Philadelphia Magazine. He says that he "was basically pro-choice all my life, until I ran for Congress... But it had never been something I thought about." Interesting. Well, there goes your credibility in attacking Mitt Romney's flip-flopping on this issue. So, what happened once he actually thought about it? Well, he said he, "sat down and read the literature. Scientific literature." Science? What's that? Is that one of those crazy alternate theologies that threatens our way of life? Hmm. Then, after the reporter pressed him on what role religion played in his decision, he said, "Oh, well, of course. And religion too. It was both of those, science and religion." Very eeeeenteresting, Reeeck.
In this story, a Republican colleague also says that Santorum had never been identified by anyone as anti-choice. Plus, remember how Rick's now-wife Karen had that strange live-in relationship with an abortion provider named Tom Allen? Well, when she was moving out, she apparently said to Allen, "You'd really like Rick. He's a lot like you. He's politically active and he's pro-choice.'" Excuse me for one second. My eyeballs just popped out of my head, and I have to go find them…