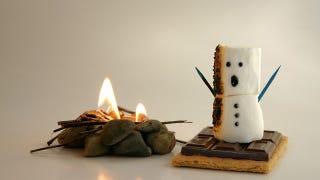 Supporting Planned Parenthood is fast becoming the new Republican equivalent of supporting terrorism, and conservative politicians are finding ever more creative ways to prove to their constituents that they want nothing to do with any organization that so much as looks in Planned Parenthood's general direction. Perhaps it should not come as a surprise, then, that one Bob Morris, a state Rep. from Fort Wayne, Indiana, has decided to take a brave stand against one of America's most notoriously evil organizations: the Girl Scouts.
He really has gone out of his way to make it known just how much he can't stand this nefarious bunch of macaroni-necklace-making, s'more-eating devil children. Not only did he refuse to sign a House Resolution to recognize the 100th Anniversary of Girl Scouts of America, he sent an open letter to his colleagues detailing all the insane reasons he had for voting against such a criminally bland piece of legislation.
Let's take a look at some of what he had to say in his letter, since it's pretty much a work of art. Why don't we start with the basic problem he has with the Girl Scouts:
After talking to some well-informed constituents, I did a small amount of web-based research, and what I found is disturbing. The Girl Scouts of America and their worldwide partner, World Association of Girl Guides and Girl Scouts (WAGGGS), have entered into a close strategic affiliation with Planned Parenthood. You will not find evidence of this on the GSA/WAGGGS website—in fact, the websites of these two organizations explicitly deny funding Planned Parenthood.
So, basically, he googled "Girl Scouts." Congratulations, Rep. Morris. It might interest you to learn that you can find proof of pretty much any zany idea if you google something hard enough. And generally, if a respected national organization says specifically on its website that it doesn't have a relationship with Planned Parenthood (probably as a result of countless other weirdos doing the same google "research" you did) then they do not. But he does not let that little "fact" stop him from charging forward:
[A]bundant evidence proves that the agenda of Planned Parenthood includes sexualizing young girls through the Girl Scouts, which is quickly becoming a tactical arm of Planned Parenthood. … A Girl Scouts of America training program last year used the Planned Parenthood sex education pamphlet "Happy, Healthy, and Hot." The pamphlet instructs young girls not to think of sex as "just about vaginal or anal intercourse." "There is no right or wrong way to have sex. Just have fun, explore and be yourself!" it states.
Ahhh, how could the Girl Scouts so blatantly disregard the Lord's famous eleventh commandment: "Thou Shalt Only Have Sex In the Vagina"? And as for Planned Parenthood, looks he's on to their devious plot to make us all sex addicts. But seriously, anyone who's ever been a Girl Scout—probably including our dear Callista Gingrich—can attest to just how sexy it is. For one thing, those brown outfits are so revealing, and then there are all those aphrodisiacs they secretly put in the thin mints. Why do you think they're so addictive?