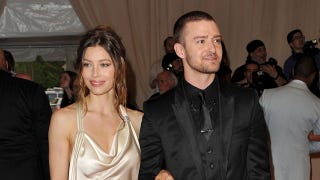 For weeks and weeks, we've been speculating about whether Justin Timberlake and Jessica Biel were actually engaged or whether they were just toying with our fragile minds. There were definitely doubts—she wasn't wearing a ring, he celebrated his birthday without her—but now it appears they've gone and made it official.
This weekend, after Justin did a few very funny cameos on Saturday Night Live, the couple was spotted at the SNL afterparty. And Lady Jessica was actually wearing an engagement ring, which she was reportedly happy to show off. Not only that, but, according to a source, they were even "very lovey. Holding hands. They kissed a few times in front of the crew." Well, I'll be damned. Unfortunately there don't seem to be any pics of this fabled ring, but maybe this is a sign that things are still on like Donkey Kong for these two. Looks like it's time to start getting excited for their wedding, which we will all no doubt be invited to. [OMG!]
---
Everyone's favorite subject of constant speculation about everything from love to baby bumps, Jennifer Aniston, has spoken out about the rumor that her relationship with Justin Theroux began on the set of their new movie Wanderlust, when, you will remember, he was still with his now ex-wifegirlfriend. According to her, it didn't go down that way, "Nothing happened on that movie ... it's a rumor. It's the easy rumor, but nothing happened. We were just friends." In other words, she ain't no Angelina, y'all. [HuffPo]
---
Whitney Houston's godmother Darlene Love (best godmother name of all time, btw) has said that burying her granddaughter has given the family some closure:
The burial was very emotional and the best thing about that burial, it was like a procession. Because the people lined the streets and we looked out the windows of the car and they were crying and so it made Cissy and (Bobbi) Kristina really, really feel good... It means that they loved her no matter what... And they showed that last night… So everybody is getting over yesterday, now it's a closure and now we have to go on with life because Whitney would have wanted that.
First order of business should probably be making sure Bobbi Kristina gets the help she needs to deal with her apparent substance abuse problems, so she doesn't go down the same sad road her mother did. [Daily Express]
---
If you are Adele's estranged father, be advised she is not too happy with you. In fact, she's extremely angry because you sold a story to the tabloids about how you split from her mother, and that is, indeed, a pretty scummy thing to do. If you happen to run into her on the street, turn around and walk away because she's vowed to spit in your face the next time she sees you. [E!]
---
We have perhaps been given a bit of reprieve re: our beloved Dame Judi Dench going blind. Following the hubbub after her condition became public, she's issued this statement: