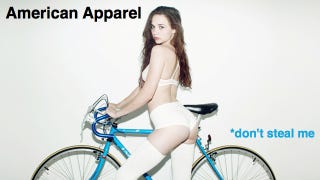 American Apparel is changing its way of doing business. The troubled hipster clothier — so renowned as a soft touch for shoplifters that Shoplifting From American Apparel is a novel that exists — is cutting perhaps the last tie to its earlier, looser, corporate culture. It is installing radio-frequency ID tags on all of its clothing, so it can be tracked to prevent theft.
As a Boston alt weekly reported in 2010, American Apparel has long been known for its popularity among shoplifters — including many employees — and for the casual attitude towards same at the corporate level.
The company's worst-kept secret is a combination of lax security and corrupt management that virtually encourages them to steal, a combination that's led to employees at multiple retail locations in the United States, individually and in teams, stealing countless thousands of dollars in merchandise from the company.
As reporter Devon Maloney pointed out, "The first green light for theft is poor management." When you engage in the fastest retail rollout in American history, expanding like jersey lamé kudzu across the world, and when you staff your stores with 17-year-olds hired not for their experience or résumés but for their looks (and for having chain founder Dov Charney's favorite kind of eyebrow), and when you give those people the keys to the store, it doesn't exactly send the message that you take leadership, merchandising, sales, customer service — or any of the things that make retail jobs work — all that seriously. It also gives those folks (retail drones who earn a fraction of American Apparel's much-vaunted $12-$14 wages for its factory workers) an engraved invitation to steal.