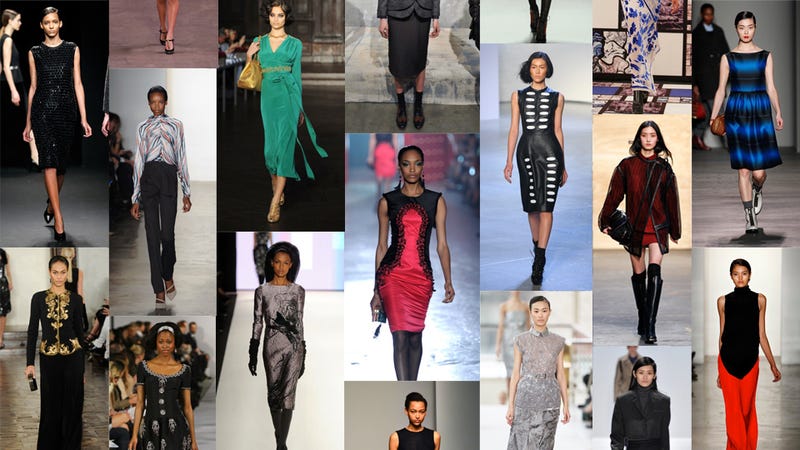 Every season, we cover New York fashion week — the clothes, the money, the parties, the putative "trends." But we also cover the racial makeup of the casts of models high-profile brands select to walk in their fashion shows.
We do this because the fashion industry continues to have a vexed relationship with race. Some magazines and designers treat skin color as a kind of a fashion trend in itself. Anecdotal evidence and the accounts of numerous models of color suggest that overt racism shows itself in fashion in a way that it doesn't in other industries: because it is acceptable to hire or not hire a model based entirely on her physical appearance, it is also, apparently, acceptable to cancel a model because you "already have" an Asian in the show, or to tell a model, "We're not doing black girls this season."
This season, NYFW was more diverse than it has ever been since we began keeping this data, eight seasons ago. But only very slightly. The good news is that models of color finally topped 20% of the models booked for fashion week shows. In the 141 shows and presentations covered by Style.com this season, designers presented 4,561 individual outfits, or "looks." Of those 4,561 opportunities to use a model, 3,641 went to white models, and 920 — or 20.1% — went to models of color.
The largest single ethnic category, after whites, was Asians. Asian models were used for 402 looks, or 8.8% of the time. Black models were close behind, at 367 looks, or 8%. Non-white Latina models were used 110 times, or 2.4% of the time. Models of other races were used 41 times, or 0.9% of the time.
There were still certain shows that lacked diversity. Calvin Klein, as usual, showed its collection on 32 white models, and one black model. The Olsen twins' attempt at high fashion, The Row, had a 20-look collection — and not a single model of color. Reed Krakoff, the Coach creative director-turned-designer, showed his 30-look collection on an all-white cast. Doo.Ri had only one model of color. Lacoste had two, and no black models. Victoria Beckham had just two non-white models in her show. So did BCBG Max Azria, Derek Lam, and Diesel. What's interesting is that most of these are multinational brands that seem very interested in taking the money not only of minority Americans, but of women in countries like Brazil, India, and China. But it seems that to a lot of fashion brands, white skin is still "aspirational."
Of course, there were some designers who demonstrated that they do value racial diversity. Diane von Furstenberg, 3.1 Phillip Lim, Jason Wu, J. Crew, Suno, Mara Hoffman, Betsey Johnson, Tracy Reese, L'Wren Scott, L.A.M.B.: all of these shows had numerous models of color. So did, to his credit, Tommy Hilfiger, a designer whose shows have not always been terribly diverse. Also this season, Max Azria booked not one but two black models at one of his shows — Hervé Leger by Max Azria. And he had two Asian models in his cast, too; that's the first time he's used four whole entire non-white people to sell his clothing at any runway show since the Spring, 2000, season. Maybe Azria is the king of diversity, after all.