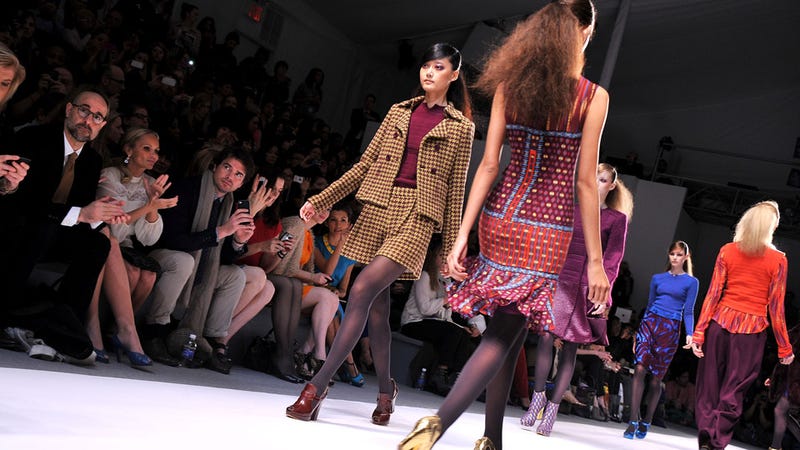 So here's something interesting — for $250 you could have rubbed shoulders with Cory Kennedy at the Nicholas K show last week, and for $199 you could've checked out the Nanette Lepore show. This is all thanks to fashion industry insiders like publicists, freelance editors, and stylists who are more than willing to exploit their clout and make a quick buck by selling their unwanted tickets to many of the smaller shows (no Rodarte or Ralph Lauren — yet) for a pretty penny on Craigslist. And apparently, there are plenty of people more than willing to pay up.
23-year-old Lena Naim was one of them, paying $250 for a seat at BCBG Max Azria. An Australian native, Naim gushed that it had always been her dream to go to a fashion show in New York. "The whole industry is so fascinating to me. It's just so beautiful and glamorous. I can't explain it, I just love it!" she exclaimed when asked why on earth she would fork over $250 to watch something that is usually over in less than ten minutes. "It's just so exciting! I love the models, the clothes, the glamorous editors, seeing all the photographers."
While this kind of excitement has led "show crashing" to become a common challenge among gutsy fashion students, interns and wannabes, exchanging money for a ticket and therefore fuss-free entrance would seem a lot more appealing to the many outsiders who want to be in. The embarrassing rejection ratio would seem greatly diminished — there's no scrounging around rubbish bins in the hope of finding already used show invitations that if flashed quick enough, might get you past the gate-keeping publicists, and there's no more fear of looking like a complete loser when you're told in front of everyone else in line, "Sorry, that editor has already been seated." Nice try.