I was just "talking" with Dodai about what to do for a Rag Trade lede. "Dodai," I said. "Karl Lagerfeld said some krazy shit again!"
"Hmm," said Dodai.
"I know we highlighted the Adele-is-fat bit," I said.
"Right."
"But there are so many other bons mots! 'People in magazines are 50% bimbo and 50% pregnant women.' 'If I was a woman in Russia I would be a lesbian, as the men are very ugly.'"
"Yeah," said Dodai. "The pregnant women bit was in Dirt Bag as well."
"'Nobody wants Greece to disappear, but they have really disgusting habits.'"
"What are your other options?" she asked
"The Model Alliance launch, haha?" I typed, hesitantly. "Doutzen Kroes, Coco Rocha, Crystal Renn, and a bunch of other models were there. Shalom Harlow came! Plus Robin Lawley and Sarah Stephens. It was amazing."
"I think that might be better," said Dodai.
"You think? But I helped organize it." I said.
"I know," she replied.
"I mean, it's a bit of a weird thing to do — make myself the lede."
"Nah, do that!" said Dodai.
Hmm, I thought. Let me check Getty to see if any of those pictures they took are available under our subscription. That photographer who I saw last night who remembered me from a Karen Walker show in, like, 2008 — was he shooting for Getty? I know someone was there for Getty. Either way, he was a really nice guy. Hmm. No subscription photos. Oh well. Hey, look, the Gloss posted a nice one! Let's go with that. Oh, and look what Ashley Cardiff wrote about the Model Alliance:
Models are still a work force and still deserve the same basic rights as any teacher, waiter, blogger, plumber… Unfortunately, models are often reluctant to speak out when confronted with inappropriate behavior or financial exploitation for a litany of reasons, not the least of which is a constant reminder of their own expendability. Why complain about sexual harassment if there's someone even younger and thinner waiting to take your place?
Salient points. Couldn't agree more. A pretty good take on the Model Alliance, all told (which in case you haven't figured out by now, is a new nonprofit dedicated to giving models a voice in the American fashion industry, an organization on whose board I am proud to sit, and whose launch party last night at the Standard Hotel I helped to plan, and which I am now writing about because Karl Lagerfeld's latest kerrrrazy kuote was too kold for this news cycle). Ooh, there was also a piece on Luckymag.com. The Model Alliance "seeks to improve the conditions in which models work and live," wrote John Jannuzzi:
From the outside, modeling looks like a glamorous, effortless and "cushy" job. But like anything in this business, it's not always that easy. A grueling schedule (from shoots to multiple fashion weeks), marginal labor rights (they're typically freelancers), mounting bills (yes, in many cases, models actually end up owing money to agencies) and countless cases of exploitation, suddenly the profession doesn't seem so easy as, "walking from one end of the platform to the other."
Yep, also accurate. Looks like Reuters got our press release, too:
"The idea of models organizing may seem frivolous or, worse, downright funny — models are certainly not the people you picture when you think of child labor or bad working conditions," said former model and fashion writer Jenna Sauers. "There's nothing funny about a work force that is overwhelmingly young, female and impoverished, working for some of fashion's wealthiest, most powerful brands."
Oh yes. I remember when I wrote that. Fun times. Last night, Sara Ziff — the Model Alliance founder, and the co-director of the acclaimed documentary Picture Me — spoke eloquently about the need for the enforcement of existing child labor and contract laws, something the Model Alliance supports. "I have been very fortunate in my career," she said. But Sara — who started modeling when she was 14 — also described feeling unable to say no to work that conflicted with her educational obligations, being put on the spot to do shoot in the nude at castings from a young age, and having unauthorized charges levied against her earnings by her agency. I and the other board members, Susan Scafidi and Dorian Warren spoke, and so did our co-host for the evening, Coco Rocha. Coco read a long list of names of models who couldn't be there last night, including Karlie Kloss, Jessica White, and Behati Prinsloo, but who she said wanted to go on record as Model Alliance supporters. Oh, and Sara and Susan were on Brian Lehrer this morning! That was awesome.
"Did you see this? because this could also be a lede maybe," typed Dodai.
"Yes I did see that," I wrote back. "Aw, now I'm writing a Model Alliance thing. Can this be the one time I do something weirdly self-referential?"
There was a pause.
"OK."
So there you have it. Watch our video, visit our Web site, like us on Facebook, follow us on Twitter, why not talk about us IRL with your actual friends? The Model Alliance is now officially live. And the real work of changing fashion for the better begins today. /soapbox [TheGloss, Reuters, Lucky, WNYC]
---
Stella McCartney
recorded an anti-
leather
video for PETA. [
YouTube
]
---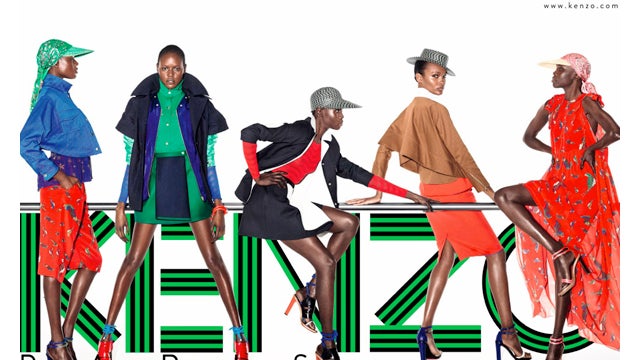 The campaign for
Kenzo
's spring collection — the first designed by
Opening Ceremony's Carol Lim and Humberto Leon
— stars an all-black cast of models. [
Refinery29
]
---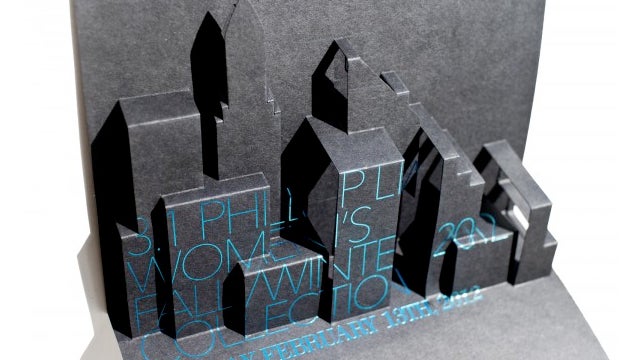 Even if you're not going to New York fashion week, you can still appreciate the creativity that goes into some of the best invitations.
3.1 Phillip Lim
's is a pop-up card of the New York skyline. [
Refinery29
]
---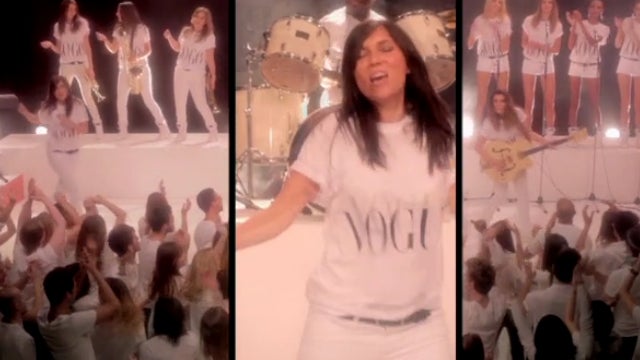 Vogue
Paris editor
Emmanuelle Alt
dances and lip-syncs to "Wake Me Up Before You Go-Go" in this video to announce the Web redesign of her magazine. We just spent about five very satisfying minutes imagining Anna Wintour doing this in honor of the new
Vogue
archive. [
Vogue.fr
]
---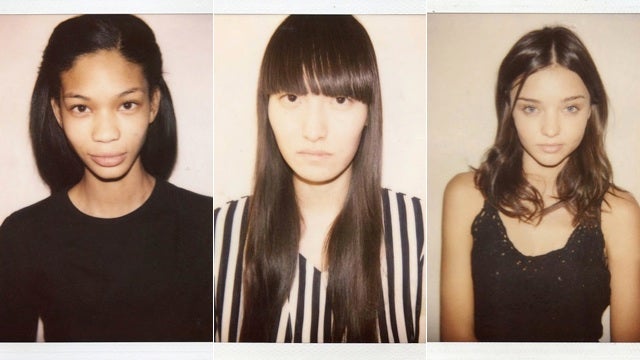 Casting director Douglas Perrett shared some old Polaroids of famous models when they were just starting out. Here are
Miranda Kerr, Chanel Iman, and the late Daul Kim
. Perrett says of meeting Iman,
"[I] realized how young these kids are. She needed a hug that day."
Perrett's forthcoming book is called
Wild Things
. [
The Cut
]
---