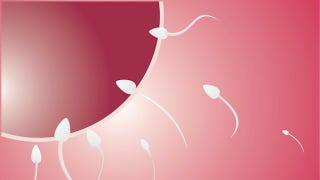 You know how today's young women are just waltzing through life, oblivious to their shriveling ovaries? Actually, for a lot of women (and men) the opposite is true — they wrongly assume they're infertile. And that can cause its own set of problems.
According to a study by researchers at Johns Hopkins, 13% of men and 19% of women ages 18-29 think they're probably infertile. Actually, only 6% of women in this age group are likely to be infertile, so women are overestimating their risk quite a bit. People who identified as Hispanic were more likely than those of other races to think they couldn't conceive; guys were less likely to think they were infertile if they were college-educated, had taken sex ed, or, interestingly, were single. And at least among men, presumed infertility was linked to a cavalier attitude towards birth control — guys who figured their sperm didn't work were more likely to say they'd probably have unprotected sex in the next three months.
There's a lot of focus these days on women assuming they're fertile when they're actually not — one recent study found that women were generally ill-informed about how much fertility declines with age. But it appears that not every lady assumes she can easily conceive into her forties — some young women figure it's already too late. And both these assumptions can cause problems. Overestimating your own fertility can lead to disappointment later on (though the extent to which this overestimation actually affects women's decisions is unclear). Underestimating it, on the other hand, could lead you to skip condoms and pills because oh well, you're probably barren anyway.