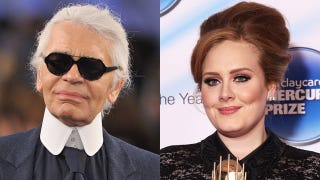 Never one to shy away from controversy, fashion legend Karl Lagerfeld has once again said something ridiculous. Proving that he would make an excellent frenemy, he gave singer Adele a very bitchy backhanded compliment. Speaking to Metro Paris, he said, "The thing at the moment is Adele. She is a little too fat, but she has a beautiful face and a divine voice."
Karl, you krazy! Adele looks great, and also you look like a Q-tip in sunglasses. So let's not go there, shall we? He also had some "withering" criticism for M.I.A.'s decision to give the finger at the Super Bowl:
Nowadays people give the middle finger quite quickly—it's not the best behavior. Everybody does that, what's new about that? It's just become a bad habit. People in magazines are 50 percent bimbo and 50 percent pregnant women.
That doesn't even really make sense. All the more reason for people to tell him to STFU—we just shouldn't give him the finger because it'll give the old guy too much satisfaction! [The Cut]
---
Brad Pitt has been unusually open about his personal life of late. The newest insight he's provided came during an interview with Charlie Rose on CBS This Morning. Brad wants us to know Angelina Jolie keeps it interesting in all aspects of life:
She's still a bad girl ... Delightfully so. Well, it's not for public consumption. We get one shot at this thing, as far as I know. I don't wanna have any regrets when we get to, you know, when the time's up. We try new things, and the same for our family. She's such an amazing mother. She's so inventive at home with them.
Well, it may not for public consumption, but now you have enough to let your imagination run wild. [HuffPo]
---
After Gisele mouthed off about hubby Tom Brady's Super Bowl loss, sources are saying the Patriots are not too happy with her comments. Apparently by criticizing Tommy's teammates, she violated a "code of brotherhood." There goes her award for Best Player's Wife at the next team dinner. [TMZ]