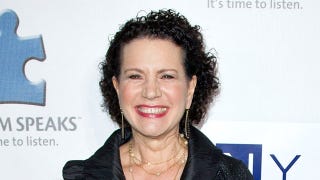 If anyone could school the Republicans on reproductive rights, it'd probably be Susie Essman's no-bullshit character on Curb Your Enthusiasm. She'd insult them so hard their heads would spin, and then she'd have them under her command. It's too bad she's fictional, but fortunately the real Susie Essman also has a smart idea on how to protect ourselves: turn our uteruses into corporations.
DCist interviewed her when she emceed NARAL Pro-Choice America's annual Roe v. Wade Dinner, and Essman discussed how worried she is about the future of our reproductive rights. She's the stepmother of two daughters, and she herself had an abortion—a fact she was refreshingly frank about:
I had an abortion when I was 16. I got pregnant the first time I had sex but I was lucky. … It was 1971 and abortion had just become legal in New York in 1970. I was fine. We were middle class and I went to a physician and I still would have gone to a physician if it wasn't legal. But what about all these other people who don't have options? The very people who need these choices and options.
So she knows firsthand how much these issues matter, and she worries—as we all do—that the Republicans don't exactly have our best interest at heart. So she's come up with a way for us to protect our rights should the Republicans assume the presidency and come gunning for Roe v. Wade:
If any of these candidates reach the White House the only way to protect my reproductive rights will be to declare my womb a corporation.
She may be kidding, but she is onto something. This has come up before, but now that the threat of GOP rule is looming right in front of us, perhaps we need to think more seriously about it. We'll need to figure out a way to make it actually legal while we still have some friends in government. And just think about the benefits this could have: