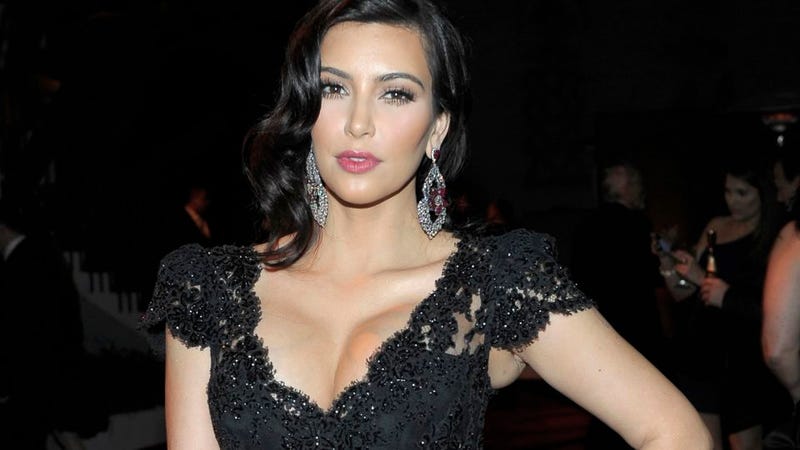 Old Navy is preparing to defend the $20 million lawsuit filed by Kim Kardashian, who alleges that the chain tarnished her reputation by using a lookalike model in an advertising campaign. Old Navy's legal strategy? What reputation! Parent company Gap Inc.'s lead lawyer, Louis Petrich, wants to make the value of Kim's endorsement a key plank of his case. Hint: Old Navy does not think that value is very high. And Petrich is seeking documents that seem calculated to cause the maximum embarrassment to the Kardashian Korporation.
Petrich has put together a plan that seeks to ferret out Kardashian's true worth as the two sides engage in a discovery process that's expected to take up much of this year. Among the documents sought by Petrich are financial records that show how much Bebe and Sears earned by making deals with Kardashian and why Bebe dropped Kardashian. The clothing retailer ditched the reality star about the same time that The New York Times published a particularly scathing review that described Kardashian's Manhattan pop-up store as a "fashion desert."

The defendant also says it hopes to find out about "Kim Kardashian's reputation as a singer and dancer."
The model in Old Navy's ad, a tertiary-grade reality star and ex of Reggie Bush named Melissa Molinaro, is a singer and a dancer; Old Navy's point is that Kim is not, and couldn't pass for one. Gap Inc. also plans to call Bush to testify. [THR]
---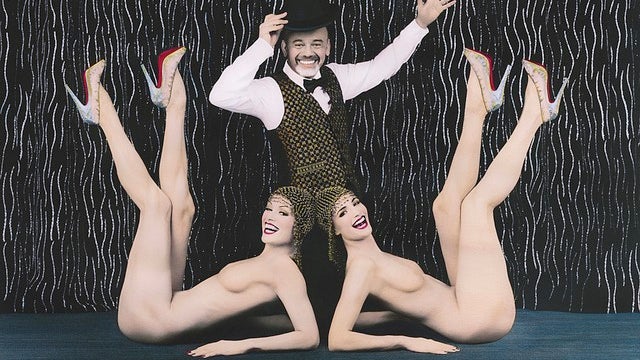 Here's a picture of
Christian Louboutin
posing with two
Crazy Horse
dancers, to promote the designer's upcoming collaboration with the famous cabaret club (
David Lynch and Swizz Beatz
wrote the music for the show, y'all). But we just want to know one thing: where are the nipples? [
WWD
]
---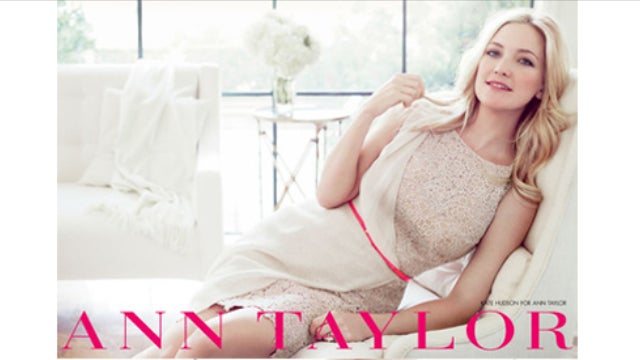 Ann Taylor
made
Kate Hudson
its face for spring. [
WWD
]
---
In this arresting video from the men's shows, watch shirtless
male models
react in slow-mo as water, colored liquid, and powder makeup is dumped on them. [
Models.com
]
---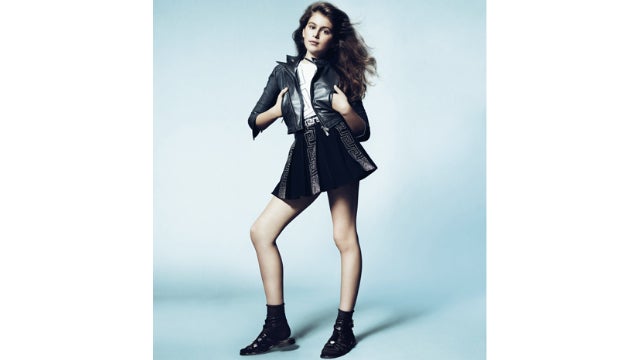 Cindy Crawford
and Rande Gerber's 10-year-old daughter,
Kaia Gerber
, is now the face of Versace's kids' brand,
Young Versace
. Crawford was a muse of the late Gianni Versace, and
Donatella
says that having Cindy on-set "took me back to all those amazing
Avedon
photo shoots we worked on together." [
Fashionista
]
---
Tavi Gevinson talked to the BBC about what it's like to be running her own site, Rookie, which launched in September. She says that she thinks there are two reasons why she attracted so much attention — and concern-trolling — for attending fashion week for the first time at age 13:

"One was that I was a blogger. The word itself blog is kind of ugly, it just doesn't sound very legitimate. And fashion, as an industry, has been really behind on being online and so I think people were confused and angry that someone younger than them had kind of figured it out. You know, they would talk about how inappropriate it was for someone my age to be at fashion week, but this is coming from an industry that fetishizes youth."

Oh snap! Sarah Mower just got told. Gevinson says she's also a little taken aback when adults sometimes express surprise that she knows about or identifies with cultural events that happened before she was born. "When my blog first started becoming popular, people were like, 'How could she know about that band or that designer from the sixties?' I was like, it's the Internet, you can do that nowadays." [BBC]

Women's Wear Daily asked Miuccia Prada how the preparations for her upcoming Met Costume Institute show were coming along, and quoted her as saying that the museum's focus was "too formal." Prada's work will be featured alongside that of Elsa Schiaparelli. "They are focused on similarities, comparing feather with feather, ethnic with ethnic, but they are not taking into consideration that we are talking about two different eras, and that [Schiaparelli and I] are total opposite. I told them, but they don't care." The comparison of Prada and Schiaparelli doesn't seem that unusual: both are Italian women designers known for their influential exchanges with contemporary artists (Schiaparelli and Salvador Dalí; Prada and everyone from Carsten Höller to Maurizio Cattelan and more) and for quirky design references (Schiaparelli and her locust buttons, Prada and her shoes that look like classic cars). But complaining about a Met show doesn't look good, and Prada is now saying the quotes were taken out of context. "Miuccia Prada is honored and proud to take part in this exhibition which is 'an impossible conversation between Miuccia Prada and Elsa Schiapparelli,'" says a statement from the company. "The comments printed are taken out of context and therefore misconstrued. Mrs. Prada confirmed that she admires the total curatorial independence of the museum to the extent that they almost did not take into consideration her vision." [Fashionista]
Apparently, to get the high-heeled mules Louis Vuitton showed last September to stay on the models' feet, Marc Jacobs and his stylist used wig glue. This runway trick is not recommended for at-home use. [DFR]
Marc Jacobs says he doesn't listen to critics — much: "Nice things are very nice to hear and it is flattering when one is given some kind of recognition, but none of that distracts me from what my job is, what it has always been: to make things. And honestly, no matter how flattering or even un-flattering something is, it doesn't prevent me from getting up and going to work and doing what I love to do." [The Talks]
In her Vogue cover profile, Taylor Swift told the magazine that she "loves" Karlie Kloss and wants "to bake cookies with her!" Yesterday the model Tweeted, "Hey @taylorswift13 love the @voguemagazine cover! Your kitchen or mine?" So it's on, basically. [@KarlieKloss]
Kloss started a Tumblr, too. [KlossGloss]
Speaking of models and baking, Miranda Kerr gave her son a cake for his first birthday. "It was the first cake he had ever seen or tasted. It was a gluten-free cake and organic, of course," she said. Of course, he put his face in it. [People]
Giada de Laurentiis says at a recent dinner she was "impressed" by Heidi Klum's ability to put away "every morsel" of a four-course meal. [The Cut]
J. Crew C.E.O. Mickey Drexler ruffled some feathers at a conference on retail when he dared air some complaints about malls. He argued that shopping malls command rents that are too high, considering the space. "I don't see any excitement or improvement in 98 percent of them," he said. He doesn't like those little kiosks that sell "inferior products" in proximity to his own, and declining foot traffic. He also said that once he went to a J. Crew in a mall, and it smelled like popcorn, because there was a popcorn store right underneath it. Imagine! "Mickey, God bless you," said one prominent mall owner in the audience. "It's not like you haven't made a living off shopping malls, maybe two livings compared to a lot of us." Shot back another, "I'll take all your space back right now." This is how the 1% fights. [WWD]
Alexander McQueen is embarking on a limited kind of partnership with the bespoke tailors H. Huntsman and Sons. If you are a man and you would like a bespoke McQueen/Huntsman suit, you can now obtain same at the Bond Street McQueen store in London. Suits start at $6,930 and take 12 weeks to complete. [DFR]
Sears stock surged 9.5%, or over $3, on speculation that the company may be taken private. [WWD]
Anna Dello Russo sometimes changes clothes five times a day. (Isabella Blow's record was 7.) "Sometimes women say to me: 'I'm tired, I don't want to go out. It's too much effort,'" says Dello Russo. But this is not, as you might imagine, an argument that sways her. "I say to them, 'You need to take a fashion shower and then you'll wake up.'" [On The Runway]
After repeatedly denying any wrongdoing, and after in fact denying any incident had even taken place, Dolce & Gabbana has apologized to Hong Kong for the actions of its security guards in a racially-motivated photo scandal. Store security guards stopped Hong Kong residents from taking pictures of the Dolce & Gabbana store façade, even from the public street — but the store allowed visiting tourists (including Mainland Chinese) to photograph whatever they want. Hong Kong folks were pissed off at this violation of the rights and freedoms they enjoy, and thousands protested outside the store. Dolce & Gabbana released a statement saying it "understood" the incident had offended many in Hong Kong, "and for this we are truly sorry and we apologize. The Dolce & Gabbana policy is to welcome the Hong Kong people and that of the whole world respecting the rights of each individual and of the local laws." [WWD]
H&M has announced that it will air a 30-second ad for David Beckham's new underwear line during the Superbowl. [Fashionista]
Adriana Lima is going to be in a Superbowl ad, too — for Kia cars. [AG]
The Ascot races is setting a more stringent dress code this season, one which will ban jeans, shorts, and sports wear, mandate jackets and ties for men, and regulate hem length and dress strap width for women, who must of course also wear hats. A spokesperson for the event said that Ascot wanted to discourage a crowd that has in recent years looked "as if they were going to the beach." [Telegraph]
And now, a moment with men's wear expert Robert Bryan. Robert, based on the photographs you have seen from the set, how do you think Baz Luhrmann is doing, costumes-wise, with Gatsby?

As is the case with virtually every period film, the fashion sense is filtered through the year in which it is made, he says, noting how the 1974 version had a distinctly Seventies vibe. The cardigans [Tobey] Maguire wears as [Nick] Carraway "look like they were made by Gant several years ago," as opposed to having the heft or height that a shawl-collar cardigan from the Twenties would have had. And his tendency to tuck his bow tie under his shirt collar is another misstep. [Leonardo] DiCaprio's Gatsby also did not pass muster with Bryan, who maintains that the suits are too contemporary. Trousers without cuffs, collar bars that are far too large, lapels that are not wide enough and oversize tie knots were other faux pas, according to Bryan. "Gatsby was known to wear such beautiful, crisp shirts that they could practically move people to tears. They really fell down with the shirts and ties, which Gatsby was known for." And don't get him started about DiCaprio's and Maguire's hair.

[WWD]