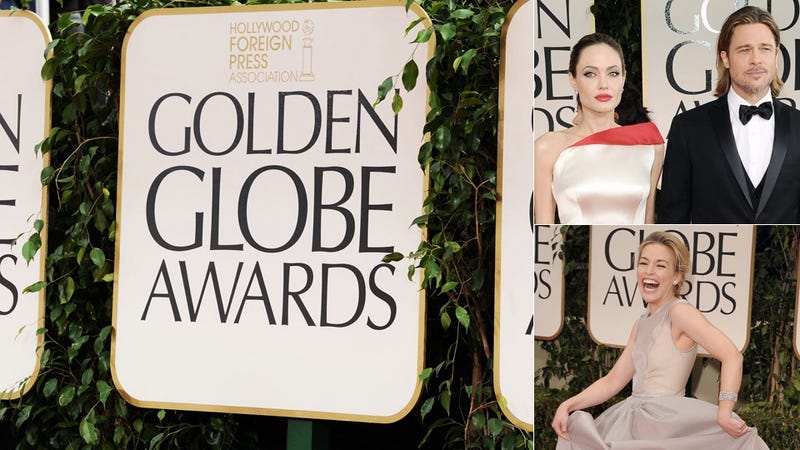 Friends, awards season has begun. And this show — the 69th Annual Golden Globe Awards — is the one where incandescent luminaries from the silver screen mingle with the heavenly bodies from the boob tube, everyone gets drunk and Ricky Gervais uses his ginsu wit to shred their egos. Some of these folks were sipping booze in the limo on the way to the venue, and may already be nicely lubricated, so pour yourself a glass of howdyacall and let's get started.
7:01
I am watching NBC and their sound is effed. Literally no sound. And it's not just my TV! Because E! has audio. Get your shit together, NBC.
7:03
Audio is up! Melissa McCarthy's dress is… not great.
7:04
Damn, Angelina. Okay. Exquisite and unique.
7:07
Charlize Theron is gorgeous, unbelievably pretty in whisper-soft pink, BUT… I love when she does Maleficent black.
7:11
Not in love with Michelle Williams' dress. I liked that 1919-ish dress she wore at the Critics Choice Awards better.
7:16
Nicole Richie's hair is a yes. I love anything that reminds me of Julie Christie in Shampoo.
7:19
Natalie Morales is beautiful... And wearing a brooch! So lovely.
Seth Rogen, would it kill you to shave?
7:22
Are you guys counting feathers? Evan Rachel Wood, Mary J. Blige… who else? Who are the coquettes?
7:27
By the by, if you want to gawk at dresses, we've got 'em here!