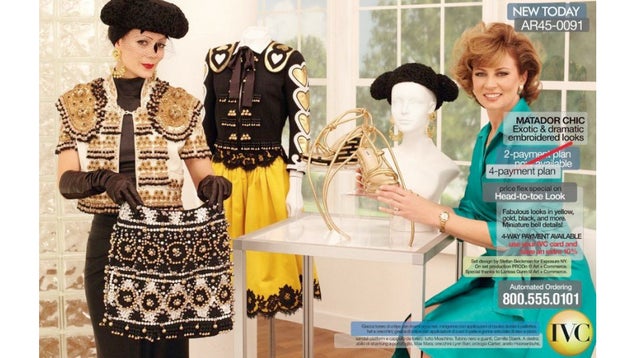 S
It's been a while since we had a truly glorious Steven Meisel satire for a Vogue Italia cover editorial. In the past, the famous photographer has set his sights on celebrity rehab centers and extreme plastic surgery, but lately he's delivered more covers inspired by old movies and the 90s. Which is fine, but sometimes fashion likes a giggle. For January 2012, Meisel and Vogue Italia deliver for your consideration an editorial that looks like stills from a home shopping TV show.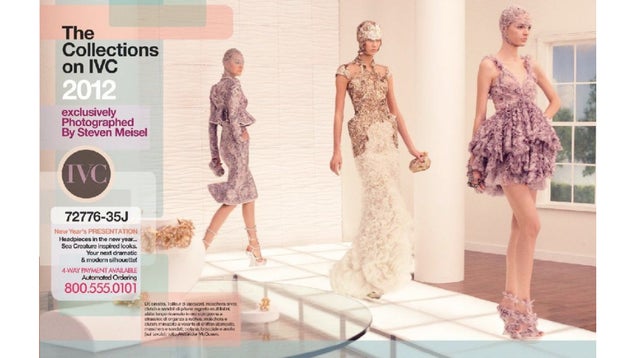 S
The joke is simple: it's kind of funny to see high-end fashions merchandised and hyped by smiling hosts like the polyester shmattas you might catch a glimpse of on QVC or HSN.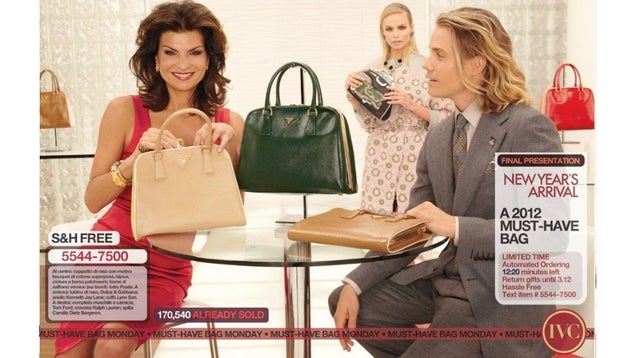 S
I wonder how Prada feels about its luxury leather goods being presented to the public like something with an alliterative name you'd buy in three installments of just $39.95.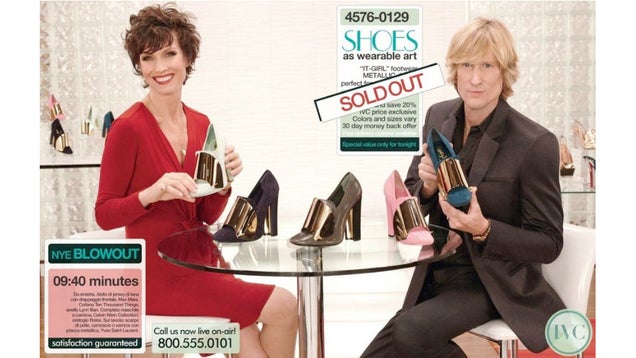 S
By the way, that lady in red? Her name is Paula Patrice, and she's 69. She primarily works as a commercial model, making her inclusion in this spread appropriate; as someone who actually does this kind of work for a living, her presence takes away from the parody anything that could be construed as condescending or mean-spirited. She wrote on her blog that she was glad that Meisel included her "without trying to 'cool me up'":
I left Marilyn Agency in Paris early in my career to pursue a consumer-fashion path in NYC because those were the "cool brands" I related to, as do 90% of the women in the USA. I love fashion and I marvel at high fashion models like [her co-stars in the spread] Daria Strokous and Caroline Trentini, at the heights of their editorial careers. I am the woman looking at the TV, in awe of the lifestyle those models are selling, ready to dial in and buy it.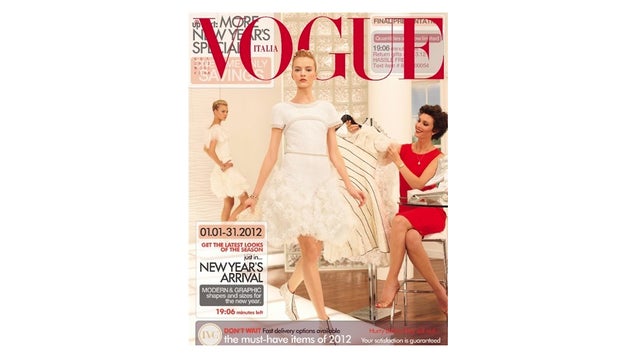 S
Besides, Patrice kind of steals the cover, doesn't she? And when was the last time you saw a model entering her seventh decade of existence on a mainstream fashion magazine, anyway?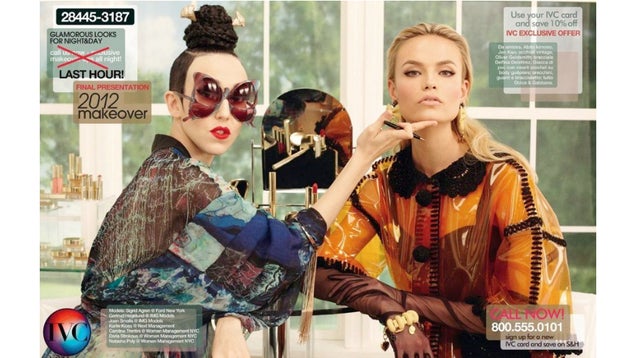 S
I zoomed way in to the fine print; those glasses are vintage. And they already belong to Michelle Violy Harper. Drat.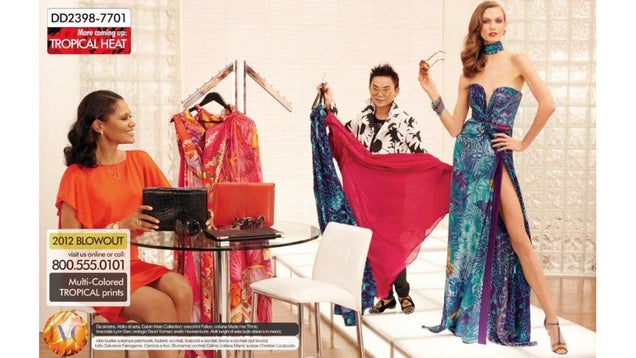 S
Top editorial model of the moment Karlie Kloss even stops by.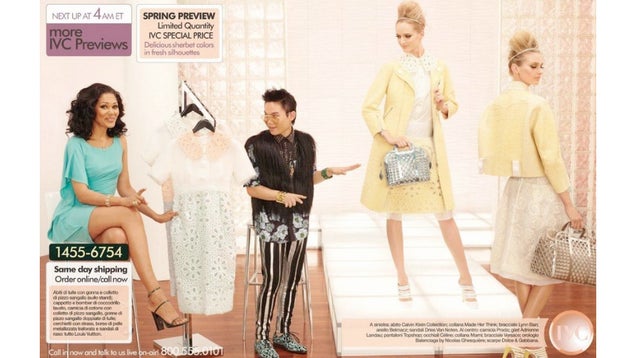 S
Just like in real home shopping — and just like in an increasing number of high-fashion magazines, in these days of advertisers insisting on full looks and control over adjacencies — the clothes are mostly grouped by brand, on this page Louis Vuitton.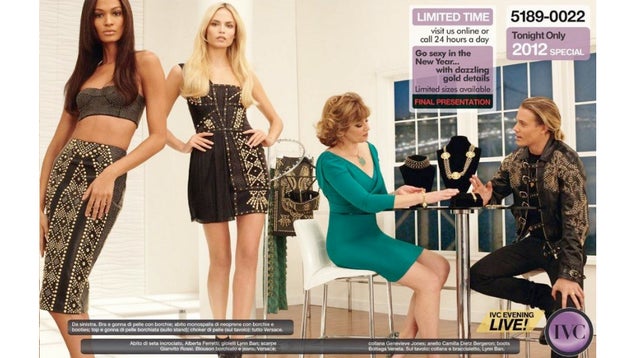 S
Versace actually really suits this spread, because it always looks kinda tacky, doesn't it?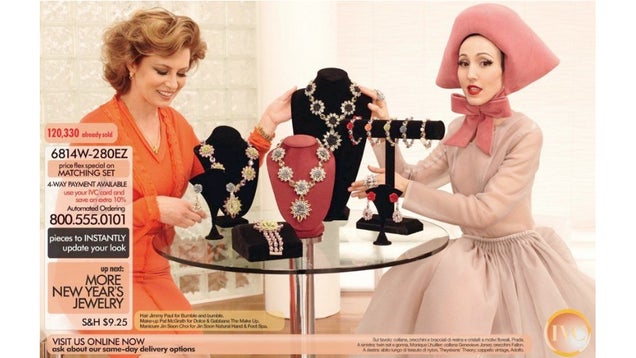 S
The pink hat is also from Harper's collection of vintage millinery. She wrote on her blog that she recently learned the same hat was worn by Marisa Berenson on an October, 1965, cover of Vogue.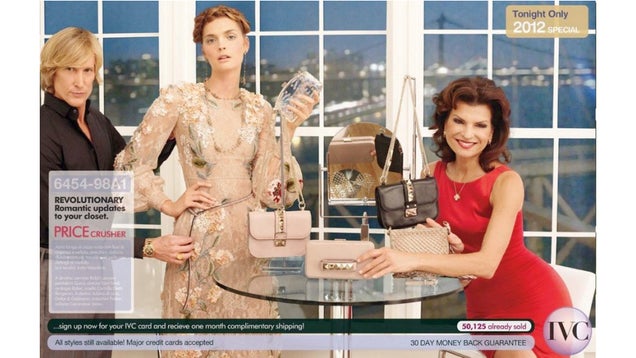 S
The text overlays, the fonts, the set design, the graphic design, the makeup, the cheerful TV lighting — just about everything is right on target.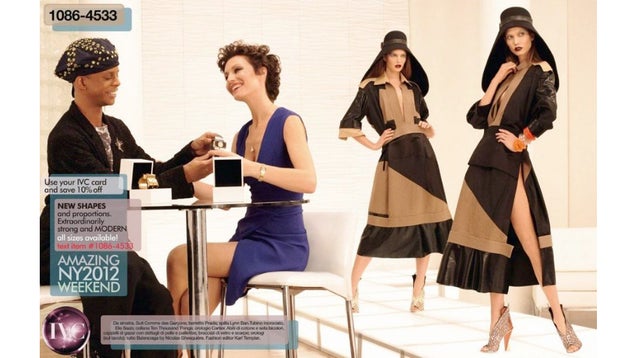 S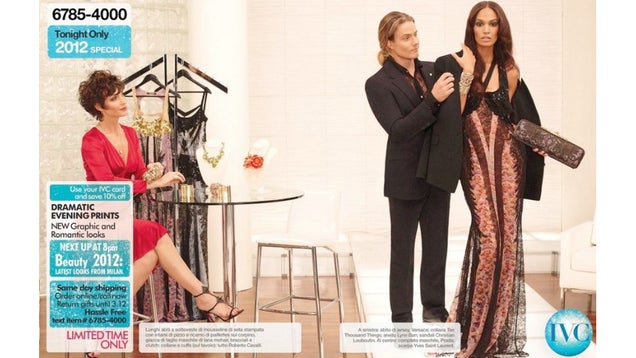 S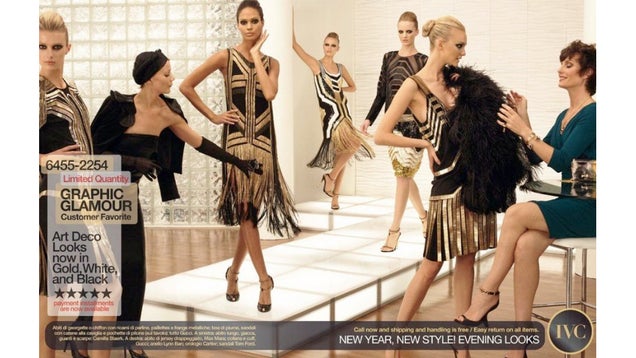 S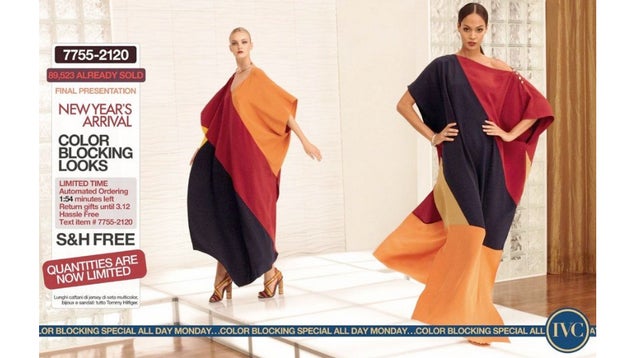 S