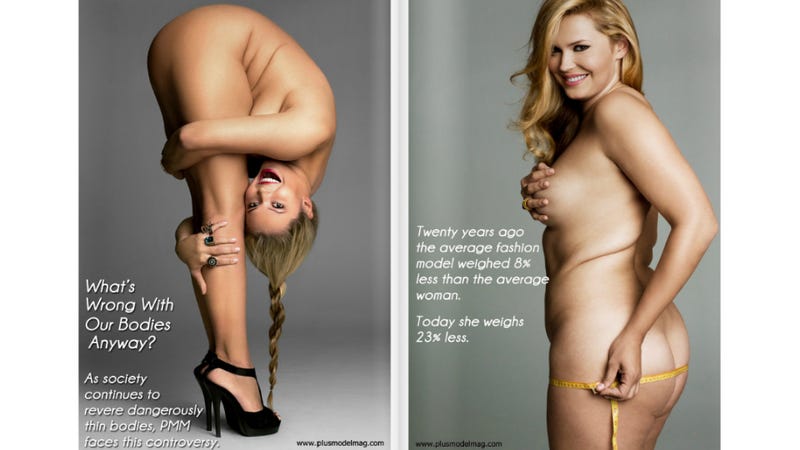 The online fashion mag PLUS Model Magazine ran an eye-catching editorial in its new issue. It seeks to promote body diversity, but while the intention was clearly positive, some of the photos left me a little cold.
The spread mixes some standard-issue plus-size-model-let's-shoot-her-nude photos of a model, Katya Zharkova at Wilhelmina, with captions that reflect on the beauty standards women contend with. There are no sources listed in PLUS's spread, which is unfortunate. "20 years ago," writes PLUS, "the average model weighed 8% less than the average woman. Today she weighs 23% less." Googling that statement seems to trace it to a body-image fact sheet put together by a Canadian media-literacy nonprofit, which itself lists no source for the 8% figure, but lists the Canadian Women's Health Network as a source for the 23% figure. I don't really doubt the ballpark accuracy of PLUS's contention, but I do wonder where these exact numbers come from. Who are these researchers, and which models are they weighing? Let's hope they aren't relying on modeling agencies' stated weights and measurements for their models, which are frequently out-of-date and inaccurate. But in any case, the real reason that straight-size models are getting smaller relative to the "average" American (or Canadian) woman isn't that straight-size models are getting skinnier. It's that the "average" woman is getting bigger. And slightly taller, according to the Centers for Disease Control, which track such things. Straight-size models aren't wasting away; they were always 5'10" and 34"-24"-34".
UPDATE: A commenter with a good memory traced that same statistic to Naomi Wolf's book, The Beauty Myth, which was published in 1991. Wolf, in turn, cited a now 25-year-old paper published by researchers at George Washington University. Could PLUS not find any more recent information on this topic?