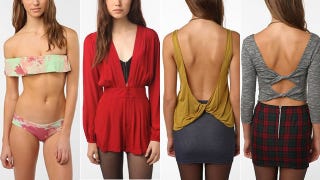 News of Urban Outfitters C.E.O. Glen Senk's abrupt resignation — he is reportedly heading to jeweler David Yurman, where he will be unlikely to be called upon to publicly explain a Navajo Flask to anyone — has sent the company's stock price into a tail spin. It's not clear whether Senk was pushed out, but Urban Outfitters' weak results are hardly a secret.
The company, which owns the Urban Outfitters, Free People, and Anthropologie brands, has seen net income fall, year-on-year, for the last four quarters. It's missed earnings projections, seen shaky sales (especially all-important same-store sales, a key measure of retail health), and margins have narrowed — which means that what products it is selling are moving only after heavy discounting. In November, Senk described himself as "disappointed" in the company's most recent quarterly results.
So what's the problem? Well, there are many. Urban Outfitters hit headlines and stayed there for weeks in October, when it came out that the company had received a cease-and-desist letter from the attorney general of the Navajo Nation over its use of the word "Navajo" in 21 different product names. Minneapolis woman Sasha Houston Brown wrote an incendiary open letter to the company, and the story was covered by numerous national media outlets. "Navajo" is not just the name of a people — it's also a registered trademark owned by the tribe, and the Nation was not happy to see its name applied to vaguely Southwestern-looking feathered stuff made in China. Urban Outfitters initially claimed it didn't know anything about the letter, but later it quietly renamed the products in question, which included the infamous flask and the "Navajo Hipster Panty."