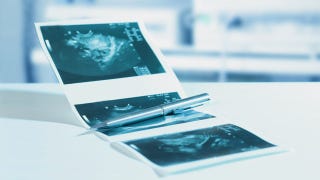 Earlier this year, a judge ruled against a Texas law that would force women seeing abortions to have a sonogram at least 24 hours before the procedure, listen to the fetal heartbeat, and hear a detailed description of the fetus' limbs and organs. U.S. district Judge Sam Sparks found that the law violates physicians' free speech rights by forcing them to "advance an ideological agenda with which they may not agree, regardless of any medical necessity, and irrespective of whether the pregnant women wish to listen." Now a three-judge panel has reversed Sparks' decision, allowing the law to go into effect while it continues to be disputed in court.
The Wall Street Journal reports that the Fifth U.S. Circuit Court of Appeals found that the law simply requires doctors to provide, "truthful, non-misleading information," and thus doesn't doesn't violate the first amendment. According to the Center for Reproductive Rights, which is representing the physicians challenging the law, this marks the first time that a federal appellate court has upheld a state law requiring doctors to describe an ultrasound. Similar laws in North Carolina and Oklahoma have been blocked by judges. Nancy Northup, president of the Center for Reproductive Rights, says, "If this decision stands, it opens the floodgates for other states to insert themselves in an inappropriate way between doctors and women seeking medical care."
Chief Judge Edith H. Jones' didn't do a very good job of concealing her personal feelings on abortion. She said in her ruling:
"Relevant" informed consent may entail not only the physical and psychological risks to the expectant mother facing this "difficult moral decision," but also the state's legitimate interests in "protecting the potential life within her."
She said it only made sense not to require the doctor to perform an ultrasound if "pregnancy is a condition to be terminated" — which is precisely the case if a woman has already decided to seek an abortion. Jones added that even if the law requires doctors to show their patients sonogram images and make the fetal heartbeat audible, "the woman may simply choose not to look or listen." It's so generous of lawmakers to grant women the right to plug their ears and hum to themselves.
The state may not start enforcing the law immediately, and the Center for Reproductive Rights still has 14 days to ask for the case to be reheard. Several Texas lawmakers, including the state attorney general and Governor Rick Perry applauded the ruling. From the campaign trail, Perry made a statement that's shocking similar to the one he issued in the summer: