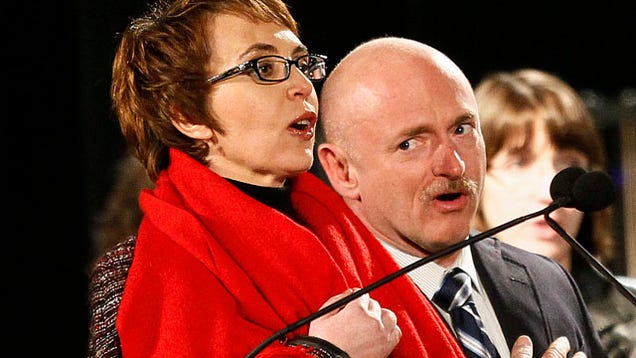 One year after a bullet went straight through her head, Rep. Gabrielle Giffords led the crowd in reciting the Pledge of Allegiance at a candlelight vigil in Tucson. Giffords' recovery has inspired people across the country, but her presence at numerous memorial events today was particularly meaningful for those still struggling with the aftermath of the Arizona shooting.
Today NPR ran a depressing look at how little has changed since the massacre. Immediately after the shooting there were calls for more civility in politics, but it seems that if anything, the vitriol has increased with the start of campaign season. Colorado Sen. Mark Udall touched on that point while speaking at the University of Arizona this afternoon. Udall urged other politicians to learn from Giffords, saying:
Although Gabby now struggles with her words at times, we know what she's trying to say ... It's a simple concept. Words matter, and these days you don't hear our elected officials using words to bring us together. Too often words are used as weapons.
Giffords, Tucson Mark 1 Year Since Shooting [NPR]
Subdued Remembrance of a Dark Day in Tucson [NYT]
Giffords Recovering, But Civil Discourse Hasn't [NPR]
Gabrielle Giffords Attends Candlelight Vigil [My Fox NY]