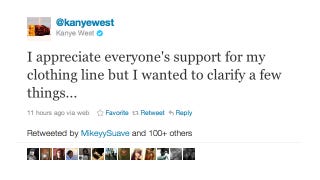 Kanye West stayed up late last night in London, and he shared his long night of the soul with his 5,826,998 Twitter followers. West is spending time in the city working on his fashion line, which he expects to show again in Paris this March, and this got him thinking about design, contract law, and shopping for "discount furs" with his mother at the age of 5. You'd never guess his teachers told him he "couldn't focus."

First, Kanye wanted to clear up some misconceptions about the aforementioned clothing line.

And then the rapper really got stuck into his history with the fashion business, which, though long, is defined by short stints, one-off collaborations, cancellations, and other reversals. He alluded to Pastelle, the streetwear line he rapped about and wore several items from publicly, before announcing in 2009 that it would never, in fact, be released publicly.