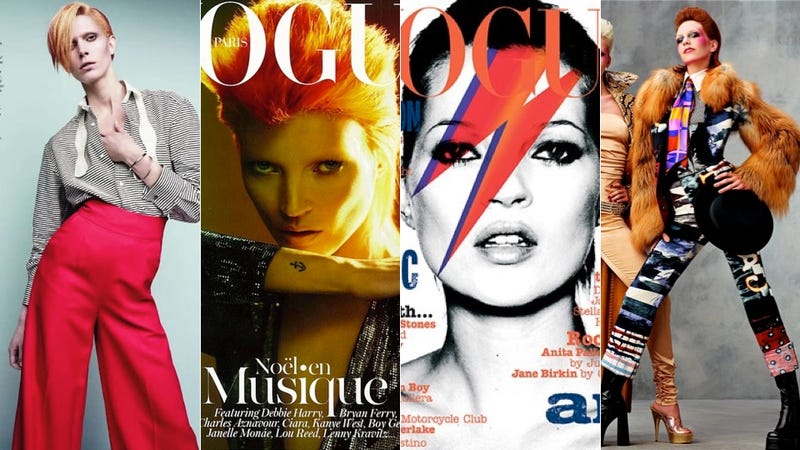 Daphne Guinness is just the latest fashion icon to impersonate David Bowie in a fashion magazine this January — in her case, German Vogue. The photographer? None other than musician Bryan Adams.
Coincidentally, in the current issue of Vogue Paris, Kate Moss appears on the cover as a Bowie double. It's an old reference: Hannelore Knuts posed as Bowie for Steven Meisel in a 2001 issue of American Vogue. Iselin Steiro did a Thin White Duke-era Bowie shoot for Vogue Paris in October 2010; this came just after Raquel Zimmerman's June/July, 2010, Vogue Paris Bowie shoot. In May of 2011, Numéro ran a Bowie spread starring Edita Vilkeviciute. Kate Moss has in fact played Bowie on a Vogue cover twice — she also did the honors for British Vogue in May of 2003. And that's just a sampling of fashion's seemingly endless sampling of David Bowie.
The German Vogue shoot does have the distinction, however, of being the only Bowie fashion shoot to date to be chronicled by the New Yorker, at least as far as I'm aware. The heiress and fashion collector was profiled by Rebecca Mead last September; the piece ends on the scene of the shoot with Adams. The magazine shot inside Guinness's apartment.