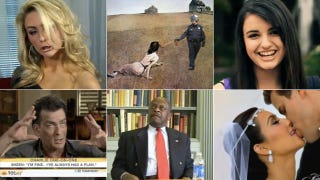 Was 2011 a joke? Was everything that happened a complete and utter farce? All signs point to yes.
Our planet was a mess. The tsunami in Japan; the floods in the Philippines, the earthquake on the east coast; a deadly tornado in Missouri; wildfires in Arizona, Hurricane Irene; and meanwhile, the global population reached 7 BILLION. In the words of Seth and Amy: Really?!?
Instead of being completely apathetic or lazily complaining, people unhappy with corporate greed, the flailing economy and the 1% and huge bonuses going to Wall Street bandits took to the streets as part of the Occupy movement. And what happened when these citizens exercised their democratic right to protest? They got arrested or pepper sprayed in the face. What a joke. A joke that became a meme.