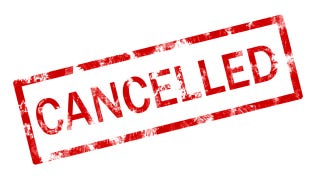 Another year is drawing to a close, and that means it's time for Lake Superior State University's annual List of Words Banished from the Queen's English for Misuse, Overuse and General Uselessness. After tens of thousands of nominations were submitted, LSSU narrowed it down to the twelve words and phrases which most offended our ears in 2011, and now it's time to delete these terrible things from our vocabularies for good:
-Amazing
-Baby Bump
-Shared Sacrifice
-Occupy
-Blowback
-Man Cave
-The New Normal
-Pet Parent
-Win The Future
-Trickeration
-Ginormous
-Thank You In Advance
Amazing, which I think we can all agree becomes less amazing every time it's said, brought in the most nominations. Trickeration is a new one on me. (Supposedly it's used by football announcers?) And let's give three cheers for the death of the man cave! Regarding baby bump, that phrase is a pox upon our language, and I doubt anyone will be sad to see it go—though I beg someone to please come up with a less irritating alternative. If celebrities are going to keep having babies at the current rate, those of us who write about them need something not heinous to say in its place. Protruding abdomen and bulging stomach just don't have a very nice ring...