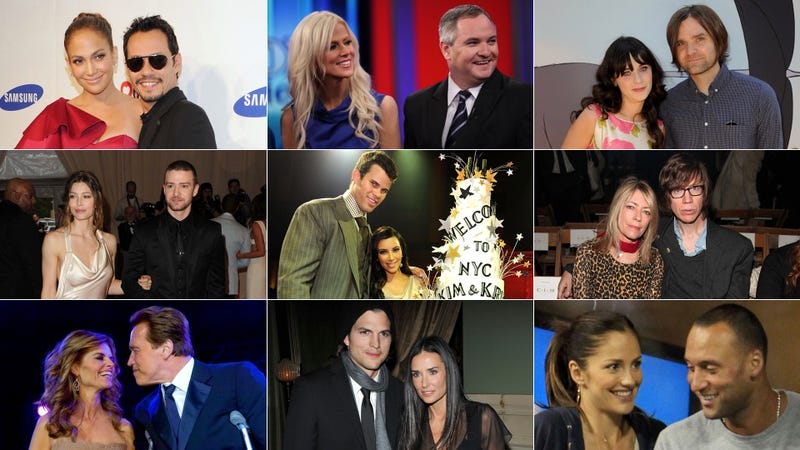 When it comes to love, 2011 has had a few ups: Jennifer Aniston finally found someone who can fill the Brad-Pitt-shaped hole in her heart, and Kate Middleton and Prince William won our hearts with their intimate little wedding. (Don't forget how he drove her around in that convertible afterwards. It doesn't get more Prince Charming than that!) But even as the thrill of new romance coursed through our veins, 2011 brought plenty of lovelorn lows. We suffered heartbreak after devastating heartbreak, as some of our favorite power couples called it quits. Let's take a look back at ten of the most painful break-ups of this year, in the order that they occurred.
---
Justin Timberlake & Jessica Biel (March)


Justin Timberlake's status as a triple-threat megastar virtually guarantees that his love life will be fucked up. After all, how easy is it to date someone who is lusted after by probably 75% of the population and is constantly in the public eye? That's why it seemed so wonderful when Justin got together with Jessica Biel in 2007. A star in her own right—but not a flashy superstar like Britney—she could hold her own with the media, but she also seemed like a down-to-Earth, lovely person. Throughout their four-year-long relationship, they kept things low-profile and downright boring. It even looked as though maybe they'd live out their days together. But then, WHAM! Suddenly our dreams of a wedding with cute "J & J: Together Forever" napkins were crushed when the couple split. Now, however, hope has been reborn that they might be bringing their low-key brand of sexy back.