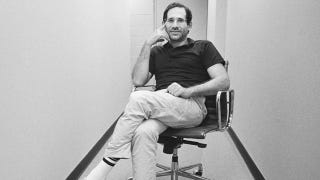 Dov Charney would like you to know that he is still kicking around. He spent a day in Toronto with a writer for the magazine Flaunt, and in the resulting 6,000-word piece he comes across as alternately petulant, clever, impassioned, self-absorbed, and utterly unaware of his own encroaching irrelevance.
But first you should know about a food called pizza. The first five paragraphs of the piece concern not Dov Charney or American Apparel, but pizza. We learn that Dov hates pizza. Pizza is like t-shirts. No, pizza is like the world we live in. An American Apparel employee orders pizza before the Toronto rummage sale, and this displeases Dov. Greatly. We learn about "China, where pizza is still viewed as an upscale dining experience." And Charney says things like, "I like Italian high-end pizza...I'm not interested in commercial pizza. I think it's disgusting." Actually — pizza is like licensing. Charney is "strongly against" licensing.
Dov Charney hates pizza : pizza is licensing :: Dov Charney hates licensing. That actually holds together as a syllogism, if one ignores for a moment that it is utterly meaningless.
"It's not the pizza. It's the mojo," Flaunt reporter Matthew Bedard remarks at one point. "And because this metaphor continues to rock, Charney worked, at one point, as a pizza delivery boy." Throughout the piece, returning over and over again to his panoply of "Pizza is..." metaphors, Bedard reveals himself to be a writer sadly in need of an editor willing to tell him what does, and does not, "rock."
Bedard wastes no opportunity to lavish Charney with praise. He describes the American Apparel founder as "a leader — a workhorse akin to the industrial legends of modern time." He quotes him and his acolytes at length. American banks, Charney says, have "divest[ed] from making loans to American manufacturers because it's been seen as something of the past, but I see it as something of the future. But if the banks don't do it, the government could underwrite some of the industrial financings that are necessary to build the infrastructure to enlarge or rebuild America's manufacturing prowess, because I think that's important." Charney seems to be suggesting a bail-out of the apparel manufacturing industry. But then he would: thanks to decisions Charney took to expand his retail operations at the height of what proved to be a real-estate bubble, American Apparel owes, at last count, over $160 million to supermarket magnate and modelizer Ron Burkle, skeevy private-equity firm Lion Capital, and the Bank of America. The last time American Apparel's stock price traded above $1 was August 3.
American Apparel has been the focus of S.E.C. investigations and subpoenas from U.S. Attorneys, it has repeatedly received delisting warnings from the NY Stock Exchange, and its finances were apparently so poorly kept that its longtime auditors unceremoniously dumped it. American Apparel underwent its foolhardy, kudzu-like retail expansion in a calendar year when it did not, in fact, have a C.F.O.: junior staffers did the bookkeeping, because the last person to hold the position literally died of a heart attack. When a C.F.O. was eventually hired, Charney promptly told the Wall Street Journal that he was "a complete loser" and a real stickler for details. Recently, there has been something of an exodus among executive management — in the past three months, the chief business development officer, acting company president, and executive vice-president have all resigned. Although the company swung to modest profitability earlier this year, after more than two years of successive declines in same-store sales, it is far from stable and financially hale. In fact, it came within days of bankruptcy as recently as April, when Charney was forced to reveal American Apparel had only $5 million in cash on hand and needed emergency financing. Not that you'd know any of that from reading Flaunt.