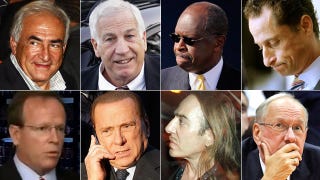 Every year contains its fair share of jerkitude, but a few major offenders usually stand out from the pack. Let's take a look at the dudes who gave humanity a bad name in 2011.
Jerry Sandusky and the Penn State rioters
Former Penn State assistant football coach Jerry Sandusky has now been accused of sexual abuse by ten people. A witness reports seeing him having "some sort of intercourse" with a boy in Penn State's football showers (though his lawyer ridiculously claims he was just teaching the boy "basic hygiene"). And the detective who worked on his case in 1998 says there was enough evidence to charge him back then. Head coach Joe Paterno, who failed to report the allegations against Sandusky to the proper authorities (in the case of the 2002 accusation, he apparently delayed because it was a weekend), has been rightly fired, but Penn State students protested this decision (and in effect stood against Sandusky's alleged victims) by rioting. The rioters (male and female) deserve to be on this list too.