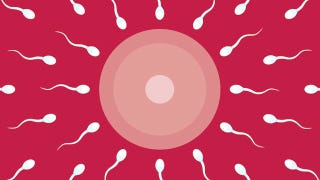 In a year of unprecedented What-The-Everloving-Fuckery, arguably little played a more important role in the events of 2011 than the goings-on inside your own personal uterus. Let's take a nostalgic, squishy walk through your babycave and reflect on all the fascinating adventures it's had this year.
Anti-Terminator III: Rise of the Zygotes
A strange and terrible group took interest in your uterus this year. They call themselves Personhood USA, and they want to redefine "person" to include all human tissue, starting at the moment of conception. Mass legal acceptance of this scientifically inaccurate principle would make it completely illegal for anyone to have an abortion, receive many forms of IVF, or take the morning after pill on account of the fact that, according to magic, a fetus becomes a grown ass human being at the moment the sperm decides it is. Voters in Mississippi roundly rejected a personhood amendment to their state's constitution, but that doesn't mean the Personhood folks are giving up their fight; they've introduced similar measures in Virginia, Wisconsin, Tennessee, Georgia, and Nevada.