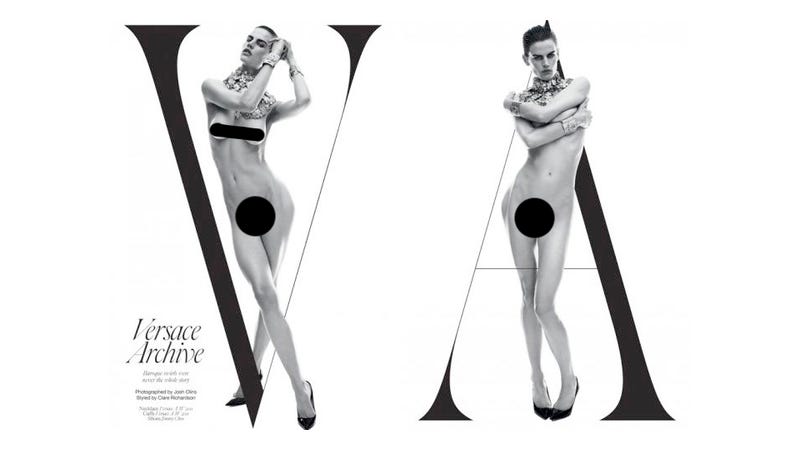 New pictures of Dutch model Saskia De Brauw in vintage Versace jewelry, stilettos, and nothing else, shot for the magazine Industrie are notable for one thing: they actually show her pubic hair. While toplessness is practically a staple of fashion photography, a frank depiction of pubic hair — or even just the acknowledgement of pubic hair's existence — had become a sort of oughts-age taboo.
This year's Pirelli Calendar, which Mario Sorrenti turned into a 24-oversized-page celebration of the male gaze, was obviously rife with full-frontal nudity. But at the key moment, a funny kind of modesty prevails: here a wrist obscures Lara Stone's crotch, there a shadow falls over Kate Moss's, and there the soaking wet white garment that fully reveals the shape of Isabeli Fontana's areolas pulls discreetly, and opaquely, away. Everything gets slightly blurry at the crucial cleft. From the waist down, these women are all shown to be about as featureless as Barbie. De Brauw, coincidentally, also posed for Sorrenti's calendar: her shots betray no hint of the hair Industrie was apparently comfortable enough to let her rock.
It wasn't always this way. While depicting pubic hair in fine art was long considered obscene — Goya's La Maja Desnuda from c.a. 1797-1800 is the first example in the Western canon, and even six decades later Gustave Courbet's L'Origine du Monde was highly controversial (and perhaps still is in certain circles: Facebook took down pages devoted to the painting just last year) — the advent of photography helped bring about a new kind of frankness about the human body. And fashion photography was interested in nudes for decades before women became interested in Brazilians: the 1970s, '80s and '90s work of Richard Avedon, Herb Ritts, and especially Helmut Newton all shows plenty of pubic hair.
But then came the J sisters, and Carrie Bradshaw, and low-rise jeans, and mainstream porn — or, at least, these are the things that journalists who write "Hey! What's up with pubic hair?" trend pieces always blame — and slowly, pubic hair became an uncommon sight in the pages of even the edgiest fashion magazines. It was unclean. It was too suggestive. It was weird. The 2000s were not kind to women's pubic hair: Agyness Deyn had a little Hitler 'stache, sure, but that was about it. Naomi Wolf, writing in New York, noted the existence of a great, generational pubic hair divide. Tom Ford had Mario Testino photograph Carmen Kass for a Gucci campaign exposed and waxed into a "G": fashion's ultimate instrumentalization of pubic hair. Actresses made sure to point out that they were wearing historically-accurate merkins when their nude scenes betrayed even a hint of hair. (Okay, so some of them still do that.) The message was clear: nobody had any pubic hair anymore.