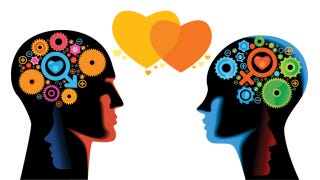 It's not just Ryan Gosling. Guys really are more open about their romantic feelings than ever before. Young men think about sex less — and about love more — than either traditional psychology or pop culture acknowledge. Is it the sudden emergence of a new "mushy male" ethos? Or is it simply the long overdue recognition of something that's been there all along?
A quick review of the recent literature reveals the extent of the change.
In 2008, a study by researchers at SUNY Oswego found that a highly diverse group of 10th grade boys ranked being in love as one of their top three reasons for wanting sex. As the study's author told the New York Times: "Although some of them are just looking for sex, most boys are looking for a relationship. The kids we know mostly aren't like this horrible stereotype. They are generally interested in dating and getting to know their partners."
Many of the commenters on the Times article weren't buying it; they enthusiastically clung to the idea that the "horrible stereotype" was cold, hard — or perhaps hot and hard — fact. As one put it, "teenage boys would not be the first humans to ascribe nobler reasons for their desires." Many others expressed certainty that the boys were telling the researchers what they wanted to hear; "I still wouldn't ever trust a teenage boy around my daughter" said another.
To quiet the doubters, the SUNY Oswego findings were confirmed by a much larger 2010 study by Seventeen and the National Campaign to Prevent Teen and Unplanned Pregnancy. After interviewing more than 1200 young men (aged 15-22), the investigators discovered that the overwhelming majority of their respondents were more interested in relationships than sex: "Two-thirds (66%) said they would rather have a girlfriend but no sex compared to only one-third (34%) who say they would prefer to have sex but no girlfriend. Similarly, two out of three (66%) agree that they could be happy in a relationship that doesn't include sex."
2011 has brought still more research about the emotional complexity of young men. Last month, the CDC reported that fewer American teenagers have had heterosexual intercourse than at any time in the last 30 years. One surprising explanation, according to the Times: "…the second-most-common reason among boys [for remaining virgins] in the current survey was that they had not yet found the right person, a distinct change from 2002, when the No. 2 reason was that they did not want to get a girl pregnant."
The data keeps coming. Amber Madison's Are All Guys Assholes? published in September, reveals the results of the author's own survey of over 1000 men. Admittedly unscientific, Madison's findings nonetheless jibed well with the scholarly research. As we wrote in October: