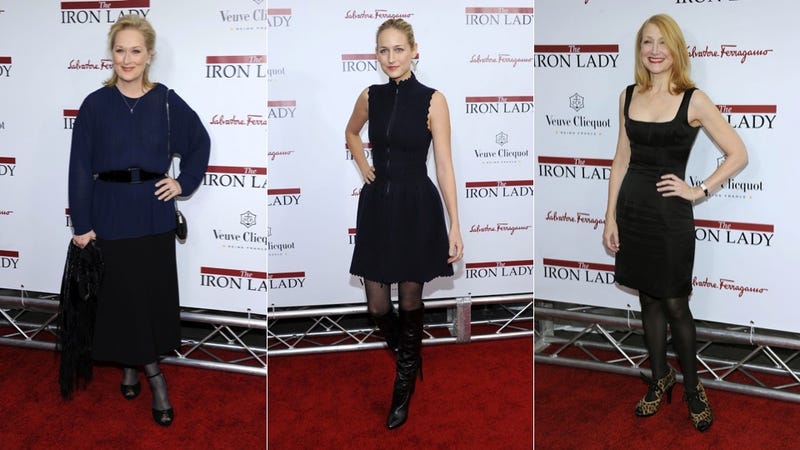 The Margaret Thatcher biopic, The Iron Lady, starring Meryl Streep as the the former British Prime Minister, premiered in New York last night. The red carpet fashion was solemn and serious, because you know, biopics about famous women in politics are solemn and serious. *Cue eyeroll*
Meryl Streep, you fabulous, inimitable, peerless, gorgeous creature you. I've never really understood the "rule" that one should not mix black and navy together. Why not??? I love her simple navy sweater, belted at the waist, paired with a black midi skirt. The outfit isn't a gamechanger in the world of fashion or anything, but it's all in the 'tude, and Meryl makes her sweater and skirt look like the chicest separates in the world. Sofia Coppola normally also wears her clothes well, but this time, the proportions are just a bit off here. The cropped pants don't look right with flats and a knee-length coat. I wish the pants were a bit more tapered and the coat, while fabulous, a little shorter.
Anne Hathaway is a pro at elegant and sleek dressing. I love her neat bun and the high neck on her dress. It's a clean look that doesn't need a whole lot of accessorizing. Olivia Wilde, on the other hand, misses the mark. A dress that severe and heavy looking calls for an updo and ANYTHING but the nude lips and bronzer look. On top of it, this dress completely swallows her frame and gives her stump leg. Patricia Clarkson is so hot, I feel like I could place frozen strips of bacon on her body and they would crisp up in a matter of seconds. Now you know my secret, greasy fetishes involving Patricia Clarkson.
Kaylee DeFer has not quite found her footing at these red carpet events. A few weeks ago, she wore a dress with armpit fringe. Now she looks like Evan Rachel Wood but sans ERW's natural instinct for edgy fashion. Leelee Sobieski is wearing my favorite outfit of the night. She looks clean and chic in her black dress with a high, scalloped collar, a partially exposed zipper, and a nipped-in waist. I love that she paired it with sheer black tights and tall, stiletto boots. Alexandra Roach is in my second favorite outfit from last night. There's something so wonderfully royal and decadent about her quilted skirt and her black top with mega ruffles at the wrists.