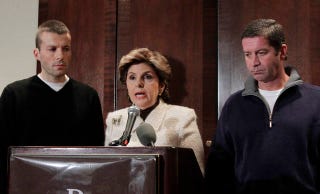 When someone says they were sexually abused as a child, immediately calling them a liar is one of the worst things that you can do, but disturbingly, there's been a lot of that in the recent university child abuse scandals. When Bobby Davis and his stepbrother Mike Lang first accused Syracuse University assistant basketball coach Bernie Fine of molesting them as children, head coach Jim Boeheim's first response was to say Davis was telling "a bunch of a thousand lies" and that the brothers, "saw what happened at Penn State and they are using ESPN to get money." Boeheim later apologized, but the brothers say the damage has already been done. Now they're suing Boeheim and the school for defamation.
Gloria Allred has signed on as the brothers' attorney, making this a bona fide shitstorm. According to the Associated Press, she explained that the university is being sued as well as Boeheim because he gave statements to the press on behalf of Syracuse. Davis said during a press conference:
"It really hurt me to learn that Coach Jim Boeheim accused me of lying ... It really made me angry because I felt that he was speaking for the university when he made his accusations against me."
After a recording of a phone coversation between Davis and Fine's wife Laurie, in which she says she knew "everything" that was going on, Boeheim said he regretted saying anything that "might have been insensitive to victims of abuse." Two days later he apologized, but then made the mistake of explaining that he was proud of himself for trying to defend a longtime friend.