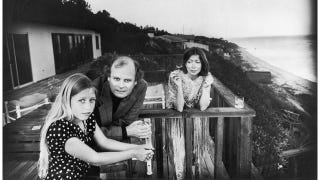 Readers of Didion's recent memoir of grieving her daughter, Blue Nights, may be forgiven for remaining somewhat unclear, even upon finishing the book, as to what exactly killed Quintana Roo Dunne Michaels. Quintana, whom Didion often calls Q, was in 2005 a recently married New York-based photo editor in apparent good health. She fell into an extended illness and died at the age of 39.
Some critics certainly seem to be a little less than clear on the events that took place. The Times Book Review wrote that Quintana fell ill "from a viral infection that had turned into pneumonia," before developing acute pancreatitis. The Daily wrote just that Quintana Roo was "struck by a series of illnesses." The Boston Globe said that "a battery of arcane physical problems that included a cerebral hemorrhage and pancreatitis" caused the death. Amy Wilentz mentions only "a number of chronic and acute illnesses" and vague "emergency medical problems." The writer Amy Ephron wrote in her piece for the Los Angeles Review of Books that Quintana "fell into a kind of semi-conscious state induced by an infection that turned into septicemia (I think — it's not really clear exactly what occurred)." (Emphasis mine.) That mysterious illness and possible sepsis "spiraled into a condition" that "resulted in Quintana Roo's tragic, untimely death."
Everyone's clear that she died. But was it pneumonia, septicemia, a virus, an infection, a viral infection, a cerebral hemorrhage, or acute pancreatitis? A certain amount of confusion is probably inevitable: Quintana was ill for nine months, and was hospitalized numerous times for various conditions, from which complications then arose. And the book is a memoir, not a medical play-by-play. But Didion doesn't help matters by being herself extremely vague. The words "acute pancreatitis" do not appear in Blue Nights. Neither does "pancreatitis" alone. Nor does "septicemia," "septic," or "sepsis." There are no search results for "pneumonia." The words "cerebral hemorrhage" do appear, once — in reference not to Quintana, but to Didion's grandmother, who died of one at age 75.
New York, which profiled Didion just before the book's November release, offers what may be the most complete account, for what it's worth. "Mystery surrounded the sequence of events," notes the magazine. The "mysterious" illness began when, in December of 2003,