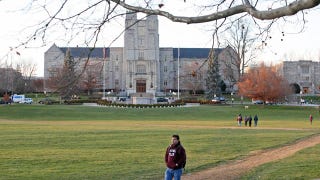 Today in an incident that brought up horrible memories of the 2007 massacre on Virginia Tech's campus aside from being horrible in its own right, two people were shot and killed at the university. The school was put on lockdown for four hours this afternoon, which was particularly rattling for students, faculty, and staff who were on campus four years ago. However, unlike last time, the school is being praised for quickly warning the community about the threat and keeping everyone informed throughout the day.
The New York Times reports that today a man walked up to a campus police officer and shot him as he was making a routine traffic stop in a campus parking lot. The man took off down the street toward another parking lot, where police later said they found a second body with a gun. Authorities haven't confirmed the details yet, but it's believed that the second man was the shooter, who had turned his gun on himself.
When Seung-Hui Cho, a Virginia Tech student, shot and killed 33 people including himself on April 16, 2007, the school was criticized for letting two hours pass between when the first victims were found and the time they sent a vague notification about a "shooting incident." In a strange coincidence, school officials were in Washington today testifying in their appeal of a $55,000 Department of Education fine for failing to warn students during the first attack.