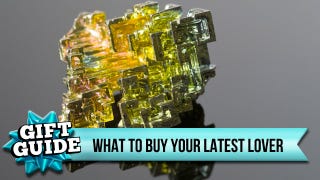 Welcome to this year's Jezebel Gift Guide! I know we haven't been together that long — it's only Dec. 5, after all — but I just got you a little something. No really, it's nothing — unless you got me something really nice, in which case I thought long and hard before carefully selecting it. C'mon, open it!
A beret
In all seriousness, buying a gift for someone you recently started dating is tough. You don't want to freak them out by getting something too expensive, nor do you want to come across as boring and inconsiderate by getting something completely generic. Ideally, a gift for a new dating partner should convey that you like them, but not that you are a crazy clingy weirdo who is going to get their face tattooed on your face. One solution: the beret. An ex of mine got me a nice wool beret for Christmas a few months after we started dating, and it was a great low-pressure, high-yield gift. A hat is something your new girlfriend/dating partner/person of interest can wear a lot, but it doesn't require you to know her size, or to spend a lot of money. The one above is $27.95, but you can find others for significantly less. You can buy a beret for your new boyfriend too (perhaps in a newsboy style), but first make sure he's the type of guy who wears hats. Just point out a dude in a classy hat and if your guy does not express a desire to punch that guy, you should be safe.
A book
A book is both thoughtful and inexpensive, and if you've been on more than a couple dates and are reading types, you've probably discussed literary tastes (if you're not reading types, maybe try a nice art book). The best gift books are books that also look attractive, making graphic novels a great choice. If I was your new girlfriend, I would love to get a copy of Charles Burns's X'ed Out, or maybe The Book of Genesis Illustrated by R. Crumb (I know, the latter is not technically a novel). But use your judgment — and if you buy from an independent bookstore, you can feel good about yourself too.
Tickets
Tickets make a great low-pressure gift because it's basically just like asking someone out on a nice date, a date you planned and paid for in advance. Whether you buy tickets to a show your special friend has been talking about, or seek out something else she may think is cool, it's hard to go wrong with this one — unless you buy Nickelback tickets, in which case no one should date you.