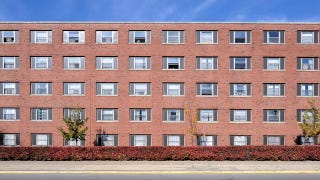 A complaint that alleges that Catholic University's reversion back to single sex dorms constitutes discrimination has been dismissed by a DC human rights council. Over protests of the student body and some faculty members, university residences will now begin splitting up men and women, which means that the window for slutty wanton women of Catholic U to destroy their own lives and the lives of their weak male counterparts is rapidly closing.
According to the Washington Post, the ruling means the school will begin phasing co-ed dorms out starting with freshman residences next year. The phase-out will follow the incoming freshman class, and by 2015, all of the dorms will separate the women from the men. The majority of Catholic University's dorms— 11 of 17— are currently co-ed.
Back in June, new Catholic University president John Garvey raised some eyebrows with an op-ed in the Wall Street Journal that explained his reasoning for the retro social engineering. In his terribly dumb letter, he explained that this move was for the good of the women of the school, who according to science become depressed when they have too many sexual partners and who according to him are causing the university's men to have no choice but to drink and stick their weens into them. Thus, students must be separated by sex. It's really for the good of the poor evil yet somehow hapless little girls who can't make decisions for themselves, you see.