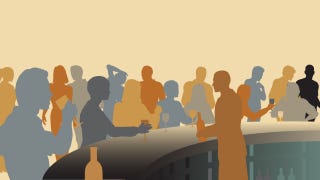 The relationship between girls and gay bars (male-only crowd, for our purposes) is fraught at best. While treatment of queer women at such establishments is another article entirely, a gaggle of straight women in one of "our" spaces can provoke confusion and intolerance on both sides.
So this is an insider's view of a gay bar, and what it means to have straight women there, that I hope can be helpful for folks on either side. I reiterate that this is just my view on things (I can't speak for everyone) and as always, you should feel free to leave corrections and refutations in the comments.
1. Understand What A Gay Bar Is
A gay bar is not just a bar full of gay people. If they were, I might enjoy them more. Instead, gay bars are the simultaneous womb and mausoleum for a Freudian-field-trip's worth of hope, desire, acceptance and regression. They're a bit like a family reunion. Take a group of otherwise sane, intelligent and respectful people. Plop them down in the same room together and watch the sparks fly. Gay bars are social spaces, meat markets, therapy groups, pop-up bacchanals. They are repositories for the cripplingly horny and terminally lonely alike. Not every gay bar looks like what you've seen on TV. They will be filled with gay men who don't look like Kurt from Glee. There are leather bars, hip-hop bars, dive bars, shitty shi-shi lounges and everything in between. Yes, they are all playing the same 12 year-old Whitney Houston remix but they exist for different purposes. Do some research before you go out to avoid embarrassment. Generally, your presence will be expected at a mega-disco, tolerated at a sports bar, and santorumed upon at a leather/fetish bar like Green Lantern or The Cock. Know what you're getting into.
2. Why are you here?
For every woman who just wants to grab a drink with her homo friends or legitimately likes the music at Town, there are sixty more who show up for all the wrong reasons. Most of those I've laid out in previous articles. The summation is that if if you think gay men can give you something that straight men can't, you are in the wrong place. Follow grade-school levels of decorum around strangers and you'll be fine. Don't overshare — your bodies and your sex lives aren't necessarily of interest to us. Don't expect us to dance with you. It's not my senior prom. Do not use us as as fonts of information about all gay men, either in general or at that bar. We are not all gay men. We are ourselves. Fawning over couples as being "soooo cute" comes off as condescension at best and overcompensation at worst.