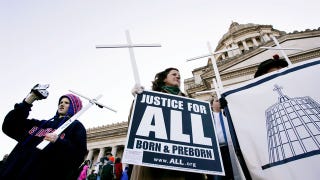 It's already illegal for taxpayer money to be used to fund abortions in Texas, but that's not enough for one anti-choice group. In a telecast on Monday, they announced that this spring, they're going to throw their efforts behind eliminating all funding from Planned Parenthood, by attacking local sources of funding. Even private donations.
The American Independent reports that 8,000 people watched the telecast, presented by 40 Days for Life, organization with a logo that creepily resembles a triumphant fetus fist-pumping while emerging from the birth canal. During the program, directors called for money from their supporters, gleefully crowing that an anonymous donation of more than $100,000 would match their tax-deductible contributions. Those donations would be used to attempt to shut off all sources of funding to Planned Parenthood in Texas— including eliminating corporate and individual donations. Unfortunately for the women who need Planned Parenthood's services, hugs and grateful glances don't pay for medical care.
If 40 Days for Life sounds familiar, that's because they're best known for being the new employer of Abby Johnson, the disgruntled former PP director who is best known for her obviously bullshit story that she became pro-life after witnessing a fetal ultrasound (because how can someone work for Planned Parenthood for years without knowing how an ultrasound looks?). In the inevitable book about her "conversion," Johnson spoke ill of the organization, saying that that the place is a fetus hungry abortion factory with quotas and sales goals. She stopped short of claiming that the contraception-promoting organization awarded free trips to Orlando for the abortionists doing the biggest numbers.