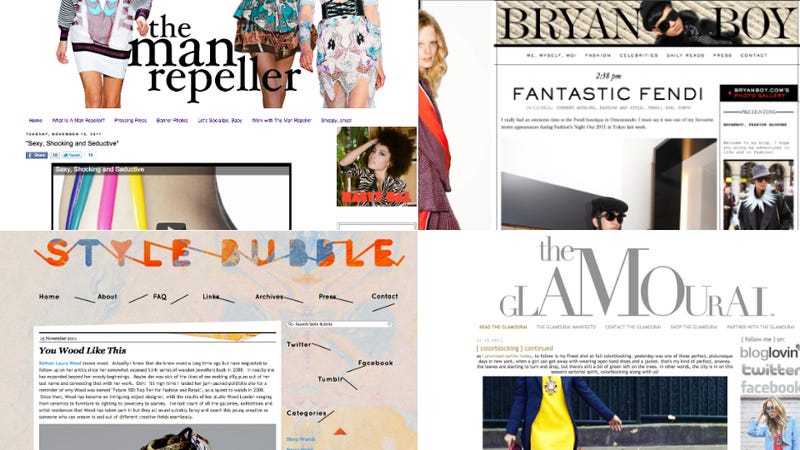 Have you heard that people writing about clothing on the Internet is kind of a big thing right now? Women's Wear Daily jumped on the hottest trend from 2007 and ran a story about fashion bloggers, and how they make money. (One-word answer: Shilling.)
What's interesting about WWD's piece is that the story appears to quote some wildly optimistic traffic numbers for said blogs. It reports that O.G. fashion blogger Bryan Grey Yambao — aka Bryan Boy — gets traffic of "4 million pageviews a month." Kelly Framel's blog The Glamourai is said to have "about 4 million [pageviews] per month." Former Dazed & Confused contributor Susie Lau's Style Bubble is said to get "at least 1.2 million page views and 550,000 unique visitors a month." Leandra Medine, who's behind The Man Repeller, gets "1.5 million page views per month." And, again according to WWD, Rumi Neely of Fashion Toast has "more than 1 million per month." The story then goes on to vaguely outline the many kinds of brand collaborations and "partnerships" that actually keep these stylish young people in Fendi loafers and Margiela couture. The quoted sample post from Fashion Toast includes a lavish description of a Rag & Bone ("one of my favorite brands") vest "that was sent to my hotel" — to give you an idea.
Four million pageviews a month is a significant audience. An audience that should attract a lot of advertisers, obviating the need for such shilling. And yet, of the above sites, only two — Fashion Toast and Bryanboy — carry significant third-party advertising. Currently, both are running the same big ad for Derek Lam's diffusion line, 10 Crosby. Man Repeller, meanwhile, has a number of smaller sidebar ads. And only Bryanboy tells WWD that advertising is his "main source of revenue."
It's not clear how or where WWD sourced its traffic information — I did ask Bryan Boy if the 4 million monthly pageviews figure was his or something WWD reported independently — but it's not too hard to look at some of the services that actually measure web traffic. Site numbers are notoriously tricky to accurately pin down — trust us, we'd know — but two of the best sites doing so are Quantcast, which measures global users both in pageviews (the total number of pages loaded on a site) and unique users (the number of individual people who actually visit a site), and Compete, which measures a site's number of U.S.-based unique users per month (which is always a much smaller number, though one that is valued by U.S.-based advertisers). Here's what we found:
Bryanboy
Bryanboy says the Quantcast information is outdated. "I used to have it when I was part of the gay ad network in 2006, and they won't give me access to it w/ my own acct since its part of the 'network.'" ([Sic] courtesy of Twitter character limits.)
The Glamourai
Style Bubble
Man Repeller
UPDATE: Medine emailed to say that as far as she is aware, WWD sourced its 1.5 million figure about her blog's traffic directly from her. She also says that she was approached about this piece in September, so some of the information is slightly out of date. According to a current screenshot of her Google Analytics dashboard which Medine provided, ManRepeller.com got 1,755,067 pageviews in the past month.
Fashion Toast
Wherever WWD got its figures, it's pretty clear they are vastly inflated. (For comparison, Quantcast puts Jezebel's audience at 3.2 million monthly global users; these users generate over 50 million pageviews.)
Then, an actual fashion blog, Fashionista, picked up WWD's story, re-interviewed a number of its sources, and actually reported arguably more new information than WWD printed in the first place. Fashionista noticed what is, aside from off-base traffic stats, the other main hole in the WWD piece: this is supposedly a business story that betrays a certain delicateness on the topic of these businesses' actual, you know, income. Fashionista talked to a number of WWD's sources, including Leandra Medine and Kelly Framel, about how they actually make their money. It must be a dicey thing, running a personal style blog that suddenly becomes successful — brands want your audience's attention, but your early, original posts, written while you were on no advertiser's radar, are what earned you that very readership. Reading someone's personal blog — and all of these blogs still give the appearance of being sole-charge operations where everything is written in the first person, not media companies, and not the fashion magazines whose obvious shilling we've come to expect — is one of the few times the Internet still feels intimate; it's like thumbing through the musings of a friend. But feeling like a friend has sold you out for a Reed Krakoff bag can leave a reader strangely betrayed. Fashionista reports: