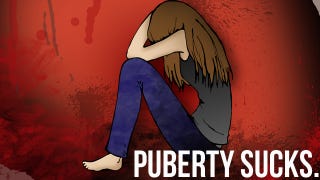 When you ask folks for horrifying period stories, you expect to be entertained. You don't expect to be saddened and enraged.
So many of the terrible tales happened to children. As young as nine. Burdened with cramps, heavy flow and interacting with rude or unsympathetic people. Menstruation is a completely natural part of life, but most girls are inducted into puberty with feelings of shame. It's unbelievably upsetting to discover how poorly we treat young girls — kids, really — going through this biological phenomenon that is no fault of their own.
There were interesting stories, to be sure: An acupuncturist and a masseuse who promised to "remove blockages" which resulted in very heavy gushing periods. Maxi pads pulling out pubic hairs. Tampons that somehow ended up SIDEWAYS in the vaginal canal. On the funny side, there was the guy who thought his niece getting her period meant she was ready for a Quinceanera. And in the "ruined property" department, kudos to the woman who damaged a vintage Mustang by bleeding all over it.