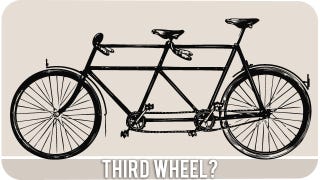 When you're single, hanging out with coupled friends can be awkward. You don't want to break up with your friends when they enter relationships, but you don't want to be the third wheel, either. And what about "couple-y" social functions where everyone seems to have a partner? Never fear, we have tips for you — and for couples, too.
Be realistic, but be honest.
I talked to Dr. Kathleen Holtz Deal, professor at the University of Maryland's School of Social Work and co-author of the upcoming Two Plus Two: Couples and Their Couple Friendships, who offers this reminder: "be realistic that when a couple are in a new relationship, they're trying to establish themselves as a couple (in their eyes and to others) and your friend may not be as available." And Dr. Andrea Bonior, author of The Friendship Fix: The Complete Guide to Choosing, Losing, and Keeping Up with Your Friends, adds, "You'll probably have to schedule your outings a bit farther in advance; your girls' weekends might not happen as often as before." But that doesn't mean you have to lose your friend. Says Bonior,
Be honest about missing your friend, without making it seem like a criticism of her significant other. ("I'm really happy for you — but I worry I'm not seeing you very much anymore!" is a good way to get a conversation going.)
Deal adds that "you might mention to her why your friendship is important to you," whether it's her listening skills or the fun you always have together. You might not want to have this conversation in those heady first weeks of a new relationship — after all, once things calm down a bit, your friend might become more available again. But if he or she doesn't, feel free to speak up. Sometimes couples neglect their friendships without even really realizing it, and your gentle heads-up could help your friend reconnect with his or her social life — which will ultimately benefit the romantic relationship too.
Schedule some fun.
When your close friends are single, you might be the one they call spontaneously when they want to do something. But when they're coupled up, that's less likely to happen. But that doesn't have to mean you never see each other — it might just take a little extra work. Says Bonior, "See if you can take up a new activity together that will be a regular, planned excuse to hang out without her mate — a yoga class or a mini-book club, for instance." Whatever you choose, whether it's yoga, movie night, or alligator wrestling, make it something that you both enjoy and can commit to. That way, even if your buddy's spontaneous Saturdays are spent with someone else, you still have a regular catch-up date to look forward to.
Get to know your friend's partner.
When your close friend enters a relationship, it's reasonable to still want one-on-one time with him or her. But it's also great if you can get comfortable hanging out with the new SO. To this end, Deal advises that you "show a friendly interest in both your girlfriend and her partner." Bonior adds,
Try your best to develop a true friendship with your friend's significant other that allows you to have discussions with that person that are meaningful in their own right, independent of your friend, so that you're not always directing questions at both of them. (Having all your conversations be 2 on 1 is a sure way to feel like the odd woman out.)
A great way to do this is to direct plenty of questions at your friend's new partner the first couple times you meet. You don't have to interrogate the dude/lady, but do make it clear that you're interested in learning about and talking to them. This will also likely make your friend happy — most people want their pals to like their new love — and make it easier for you to ask for alone time with your friend later on. If your buddy knows you like his girlfriend, he's less likely to think you're being resentful or possessive when you want to hang out with him one-on-one.
Find out what you all like to do.
You and your friend probably have some established activities that you do together, and it's possible that now that she's dating an animal rights activist, she won't want to go alligator wrestling anymore. But this could be an opportunity to add new fun stuff to your repertoire. Says Deal,
Do things together that all three of you enjoy. When you're sharing a fun experience, like watching a movie that all of you wanted to see or bike riding together, you are three people having fun, not a couple plus a single person.
Bonior has some recommendations for the types of activities that might be best:
Choose activities that won't always end up feeling couple-y (Cheering on a football team? Great. Lounging around on the couch with a Sandra Bullock movie? Not so great.)
As you get more comfortable with a couple, you can probably lounge on the couch with them without a problem. But for early-stage three-person funtimes, maybe pick something a little less tinged with romance. And remember, being exposed to new activities you might enjoy can be a fun benefit of your friend getting coupled up — maybe you never knew how much you loved vegan restaurant crawls until you tried one.
Of course, the above tips work best if your friend's SO is nice. Some people take longer to open up, and your close friend's new love deserves some time. But if you've been patient and you still absolutely hate the lady she's seeing, you need an entirely different set of tips.