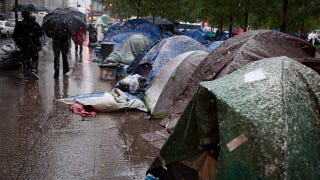 Today a Brooklyn man was arrested after allegedly sexually assaulting two women in Zuccotti Park. Crimes happen everywhere and the alleged assaults don't diminish the message of the Occupy protests, but the incidents do raise more questions about how sex crimes are being handled within the encampments.
The Wall Street Journal reports that 25-year oold Tonye Iketubosin was arrested today after two women told the NYPD that he sexually assaulted them. A 17-year-old says she asked Iketubosin to help her set up her tent on Monday, October 24. The next morning she found him in the tent and he refused to leave. Then he groped her and she pushed him away. An 18-year-old woman from Massachusetts says she got into an argument with her tentmate early on Saturday morning. Iketubosin let her sleep in his tent, and when she woke up later he was taking her pants off. She says she told him to stop and then he raped her. Iketubosin has been charged withs third-degree sexual abuse over the groping incident and charges related tot the alleged rape are pending.
Beau Sibbing, who's been in Zuccotti Park for three weeks, told Gothamist that Iketubosin had been working with him in the kitchen and went by the name "Tonye Parks." As rumors spread that Iketubosin had committed the first sexual assault, he denied he did it, but was still told to leave the park. Sibbing says he wouldn't stop coming so last night, "a whole bunch of people came and made him leave the park. Then the NYPD picked him up. I wasn't sure if it was for his own safety or if he was being arrested."
There have been concerns about whether Occupy protesters are working with police on preventing sexual assaults or trying to deal with the issue within the community. Billie Greenfield says she was part of a mediation team that addressed the sexual assault claims against Iketubosin. It's unclear when this meeting took place, but it seems people knew about the sexual assault allegations against Iketubosin before the alleged rape took place on Saturday. Greenfield says: