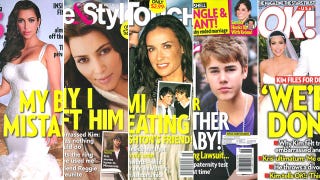 Welcome back to Midweek Madness! Every Wednesday, we hit the newsstand, scoop up the newest issues of Star, Us, In Touch, Life & Style and Ok!, and attempt to sort the stained dirty laundry pile of gossip. This week, Justin Bieber had really passionate 30-second sex with a fan who just gave birth to his baby; Demi Moore cheated on Ashton Kutcher with a dude very close to her daughters' age; and Kim Kardashian deserves our pity, since only got married because companies had already purchased advertising slots for the wedding special episode.
---
Ok!
"We're Done!"
Kim has filed for divorce. Her cousin Cindy Behr offers this quote to the mag: "I could tell right away they didn't know each other very well. At her shower, Kris was a big, goofy, funny kid, and you could tell she was irritated with him." Not much else is new, so let's move on: Sandra Bullock and Keanu Reeves had dinner last week, and a source claims they've been close since they met in '90s when filming Speed. Since they were chatting all through dinner and Keanu was making Sandy laugh, it might have been a date. Jessica Simpson is "ridden with angst" because she might be carrying twins — she "reportedly" used IVF to get pregnant. Jennifer Aniston and Justin Theroux are "preparing" for their first child and "on the verge of parenthood." She quit smoking and eased up on the amount of yoga she does every week — downgrading from 10 hours to 3 hours. Lastly, the same magazine that has claimed they were married over and over again now claims Robert Pattinson is "ready" to propose to Kristen Stewart. Just in time for the movie premiere.
Grade: F (shit stain)
---
Life & Style
"Why I Left Him."
This nice, posed, close-up photograph and first-person quote are intended to trick you into thinking that the editors scored an exclusive interview with Kim Kardashian, but they did not. Repeat: There is no exclusive interview with Kim. There are some quotes in the article, but they are couched in such a way that Kim cannot sue and say that she didn't utter the words, and, at the same time, no one can prove that she did:
"I moved too fast — I really thought he was the one, an exasperated Kim confided to Jonathan [Cheban] at the Midori-sponsored party in NYC, according to an eyewitess. "It's just not working. I feel sick to my stomach. But there's nothing else I can do. It's over."
See? The quote is overheard, and the words were intended for someone else, so if Kim didn't say that, well, it's not the magazine's fault! Anyway, apparently Kris Humprhries feels like the guy who got married to Kim on TV, not really her husband. He feels used, and he wants the 20 carat ring back. Also, Kourtney & Kim Take New York returns to E! on November 27, and a source says "Everything will be explained this season." Great. Never enough Kardashian stuff. Keep it koming. The only other story worth mentioning in this issue is "Cameron's Revenge Romance," in which we learn that she is banging Diddy. They were spotted walking through the crisp fall air in Washington Square Park last week and "it's early and not exclusive," but Cammie D will do what she has to for dick Diddy has one. A source says Diddy is Cam's "ol' reliable," and she turns to him between relationships: "Diddy is someone Cam can have fun with, no ties at all." Also, he's a Scorpio, and you know what that means.
Grade: D (blood stain)