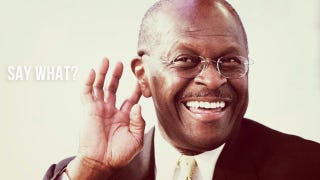 Herman Cain is hazy on the details of the sexual harassment claims filed against him in the late '90s, so he'll be excited to learn that one of the women who filed a complaint remembers the incidents well, and she wants to tell her story. Theoretically, the confidential nature of the settlement should prevent all parties from talking about what went down during those wild days at the National Restaurant Association, but since Cain quite publicly insinuated that his accuser is delusional, she says it's only fair that she be allowed to tell her side of the story.
Joel P. Bennett, who represents the accuser (who wasn't on the receiving end of Cain's confusing chin-to-hand gesture), told the Washington Post that she's barred from talking to the media due to a non-disclosure agreement she signed when she left the restaurant group. However, he argues that she should be released from the confidentiality agreement since Cain decided to publicly discuss the case (in the most vague terms possible). Bennett said:
"It is just frustrating that Herman Cain is going around bad-mouthing the two complainants, and my client is blocked by a confidentiality agreement ... The National Restaurant Association ought to release them and allow them to respond."
In the second day of his effort to convince the American people that we should be impressed that he was only accused of sexual harassment twice in his career (seriously, his listed that as proof that he's not a creep on Greta Van Susteren's show), Cain said he wasn't sure if the women should be allowed to share their side of the story due to the "legal implications." He failed to elaborate on what those implications might be.