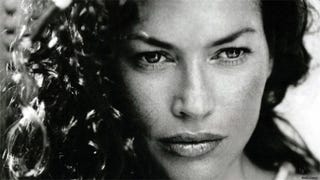 In her new memoir, Beauty Disrupted, Carré Otis at last names the man who raped her repeatedly when she was a 17-year-old new face model, just starting out in Paris. It was, she says, Gérald Marie, her agent at the time and the boss of Elite Paris, one of the world's top agencies.
Marie, who was in his 40s, was engaged to Linda Evangelista at the time, and Otis was living in Marie's apartment. She slept in the room that had belonged to his young daughter. (It is still not considered unusual for young models to be placed with their agency bosses. They have the rent deducted from whatever they earn.) Otis says that Marie would often speak cuttingly to her and other models while at the Elite offices, so she was initially timid around him at home. But, slowly, they began to bond. While Evangelista was out of town on a job, Otis was snooping around Marie's bathroom when she found his coke stash, which he kept in a big, white jar. She upended the jar — "I expected pills. A second later, I stood aghast in a cloud of white powder" — just as Marie came home.
"With a wink and a grin," writes Otis, Marie told her, "What we can't pick up, we'll just have to snort." Her agent pulled out an American $100 bill and rolled it up.
It was not the first time Otis had seen cocaine, but it was more or less the beginning of what became a major addiction. Soon, she was getting a vial every other day, always, she says, from Marie. Regularly informed that she was fat, coke was "the secret to model weight management." (And this was the 80s — a time when, we are often told, the body type the fashion industry glorified was "healthier" and fuller-figured than today.)
Although Otis says Marie was as cruel as ever around the office, they became coke friends at home, doing lines and talking late into the night. But nothing sexual ever transpired. Otis describes their friendship thus:
It was secretive, but it felt strangely safe. I liked the way Gérald would laugh with me when we snorted lines together. I liked the way he teased me gently. And even as young as I was, I could figure out how my relationship with Gérald mirrored my dynamic with my dad. I had kept the secret of my father's alcoholism. Now I was keeping another older man's secret. I felt like Gérald's confidante. It was a very familiar role, and as sick (and age-inappropriate) as it was, I felt comfortable with it. To keep the secret of someone you look up to can be immensely empowering, particularly when you tend to think of yourself as the misfit. I'd felt like an awkward outsider so much of my young life that caring for someone in a position of authority gave me a certainty and a place that I clung to.
Gérald Marie was the agent responsible for building Otis's career. He controlled how Otis dressed, which castings she was sent on, and which editors she got to meet. Marie told her how he wanted her to walk, how she should do her hair, how she should stand, and how she should pose. He also told her that she could be a star. Otis writes, "I was desperate for his advice, and did my best to please him. I knew that this was my last chance to make it in the business. I knew that Gérald could help me become a star. And I knew that becoming a star meant being at his beck and call." In an industry where new faces commonly debut at 14, Otis is correct when she says that at 17, she was getting her last chance to make the kind of start that might actually go somewhere.