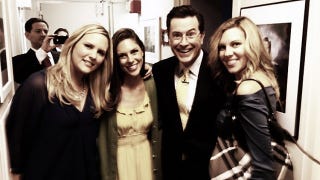 The lone reasonable-seeming candidate in the whackadoo 2012 Republican presidential field seems to be former Utah governor Jon Huntsman, and even though he looks like a Mormon Billy Bob Thorton and hasn't publicly disavowed science, he's failed to make enough of an impression on voters to poll above the single digits. The only force keeping him sort of in the spotlight are his three oldest daughters, and between their mustache wearing, joke tweeting, and sharp appearances on various cable news programs, we're beginning to think should just go ahead and run for President themselves.
Huntsman isn't terrible per se; while he's cut from a similar mold as fellow Mormon zillionaire and Presidential candidate Mitt Romney (who is actually his third cousin once removed), he's differentiated himself from Mittens with his foreign policy experience (he was the Obama administrator's Ambassador to China) and belief in civil unions for gay couples. He's predictably anti-choice, but he's publicly denounced the wacky fringe of the Republican party that seems to have taken control of the Good Ship Conservatism and he left Utah's governorship with an approval rating of over 80%. If that's not enough to convince you that he's the least- terrible of the potential 2012 Republican Presidential nominees: when he was 17, he dropped out of high school to play keyboards with a rock band called Wizard. Pretty advanced for a conservative. NYC-based GOP consultant Steve Goldberg has even remarked that Huntsman is a center-right conservative that could actually pose a threat to President Obama's reelection, as though his pleading won't fall on the Tea Party steeped ears of the conservative voting base.
Huntsman's smart, competent, and capable, but he's not going to win the nomination. His daughters are the ones making the real impression.
Mary Anne, age 26, Abby, age 25, and Liddy, age 22 have tirelessly taken to the campaign trail on behalf of their dad, starting a Twitter account that's alternately insightful and bitingly sarcastic. Of Mitt Romney's foreign policy experience, they said, "How does Romney know anything about China? He's only been there once and that was for the Olympics. Panda Express doesn't count." Of Cain's 9-9-9 plan, they said, "Too bad the price of a pizza would be $10.89 with Cain's plan!" Other tweets detail their various media appearances and sisterly campaign shenanigans that might lead one to believe that growing up in El Casa de Huntsman involved a lot of elaborate fort-building.
During an interview with The Daily Beast, the Huntsman three expressed frustration with the current system and the divide between the vocal sides of both the left and right wing. And they say that if Mitt Romney wins the nomination, even though they're Republicans, they won't vote for him because they can't trust him. (Neither can we.) All three of them are worldly— each of them are fluent in a language besides English— and well-traveled.