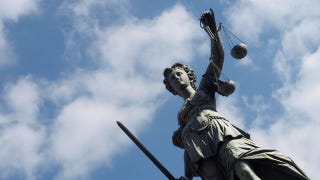 In 2006, a Canadian man forced a woman he had met at a bar in Manitoba to have sex with him, and he was charged with rape.
During his trial, his attorneys insisted that he thought that sexual consent was implied, and a judge ruled that what the defendant did was technically rape, but it wasn't rape-rape because the fact that woman was all gussied up in heels and fancy clothes meant that "sex was in the air." Dubbing the assailant a "clumsy Don Juan," the judge doled out a sentence involving zero jail time. Now, it looks like even the slap on the wrist that the Oopsie Daisy Clumsy Rapist received may be in danger of being thrown out.
Convicted of rape (but of someone who was sort of kind of asking for it, according to the judge), Kenneth Rhodes was ultimately given what essentially amounted to 2 year probation with a year of surveillance.