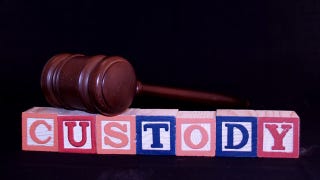 Fights over which parent will get custody of a child after a divorce can turn nasty for any number of reasons—some fair, some just plain crazy—but there's one point of contention that's quickly finding its way into custody battles across the country: obesity. Legal experts are saying, according to the Wall Street Journal, that fingers are increasingly being pointed by one parent claiming that the other parent is allowing a child to become obese or is not providing the child with proper nutrition. Douglas Gardner, a family lawyer in Arizona, said this:
It's come up quite a bit in the last couple of years. Typically, one parent is accusing the other of putting a child at risk of developing diabetes or heart disease—or saying that the child is miserable because he's getting made fun of at school.
Evidence to support these claims can vary. Sometimes it's a child's documented (though not necessarily sever) obesity, but other times it's as simple as claiming a parent is serving too much junk or fast food. And in another interesting twist, some parents have even been accused of being unfit to care for their children because they are too obese themselves.
This isn't the first time lifestyle issues have been raised in custody fights. Family law specialist Jeff Wittenbrink points out,
It used to be constantly and consistently about smoking. It's only been recently where one parent thinks their kid's not active enough, is gaining weight and eating sugary food.
So what, besides our growing national obsession with obesity and its health effects, has been driving this trend? There have been several high-profile cases involving obesity—including one in which a 555-pound teenage boy was taken from his mother—which have drawn people's attention to the possibility of introducing obesity accusations into custody fights. Plus, this summer, David Ludwig, an obesity expert in Boston, co-wrote a widely read article arguing that, "in severe cases of childhood obesity, removal from the home may be justifiable."