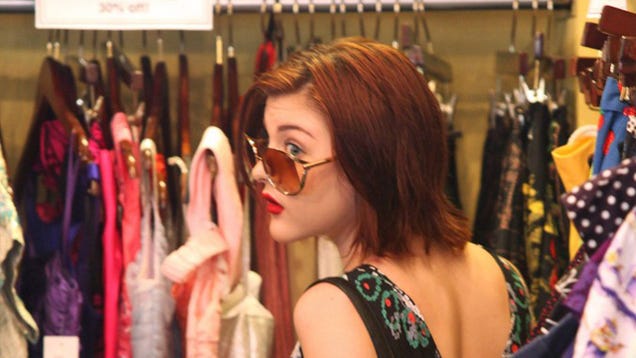 According to in-depth analysis of teenagers' Facebook pages,
Frances Bean Cobain
may be engaged to rocker
Isaiah Silva
, a dude who some say looks an awful lot like her dad ... if you're still obsessed with Nirvana and see Kurt's face everywhere you go. The couple, who have been dating for a year, recently changed their Facebook status to "engaged," but have subsequently changed it back. Plus, last month Frances, who's listed as "Frances Rachel Leigh Cook," wrote on the The Rambles' frontman's page, "Getting to spend the rest of my life loving my best friend makes me the luckiest woman in the world." Later "Isaiah David Berkowitz-Cusack" commented under a friend's photo, "Haha I do what I can. And by do what I can I mean not shower and steal cloths from my fiancé and the good will." [
E!
]
---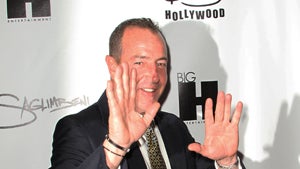 Yesterday a judge told
Michael Lohan
that he'd be thrown in jail if he even
dreamed
about
Kate Major
, but it's so hard to keep track of all the things judges say! That's why Michael started making harassing phone calls to Kate less than 12 hours after he was released from jail. She called the police, who decided he was a threat and headed to his hotel to arrest him. Then the story got crazy even for a Lohan when Michael tried to outrun the cops and jumped from a third story balcony, crashing onto some wooden chairs. Then he tried to hide in a tree. The officers pulled him down and placed him under arrest again. [
TMZ
]
Shocker:
Michael
had "consumed alcohol and drugs" according to the police report and
Kate
is currently shopping her story to media outlets. [
E!
]
---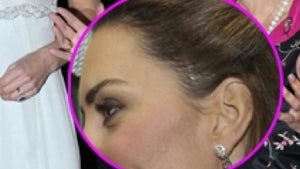 Kate Middleton
wore an updo that revealed the ostensibly "shocking" scar under her hairline. A palace rep says it's from a "very serious operation" (read: Shinylocks implant) when she was a child. [
Radar
]
---
During a performance on BBC Radio
Chris Martin
Coldplayified
Rihanna
's "We Found Love." [
RS
]
---
Can you guess who's the highest-grossing actor of all time? Here's a hint: He was in Star Wars and hates snakes, but it isn't the dude you're thinking of. [Celebs.com]
Prince Charles claims he's related to Vlad the Impaler, a.k.a. the original vampire. So the royals are a bit cold, pale, and monsterous? You don't say. [AP]
MTV wants us to believe Teen Mom is all judgey fun, but then something like this happens: Jenelle Evans crashed her car straight into a telephone pole and now Jenelle, a female passenger, and her 2-year-old son are all at the hospital being treated for minor injuries. [TMZ]
More proof that everyone at E! is off their rocker: "Blake Lively was born to play Grace Kelly." [E!]
Ugh, Adele was forced to cancel more U.S. tour dates due to vocal problems. She wrote on her website: "If I continue to pick up everything before I have properly conquered these problems and nipped them in the bud, I will be totally and utterly fucked ... Singing is literally my life, it's my hobby, my love, my freedom and now my job. I have absolutely no choice but to recuperate properly and fully, or I risk damaging my voice forever." [RS]
If you're looking for a pre-Halloween scare, take a look at this shot of Steven Tyler's face post-shower slip. Ouch doesn't begin to cover it. [BWE]