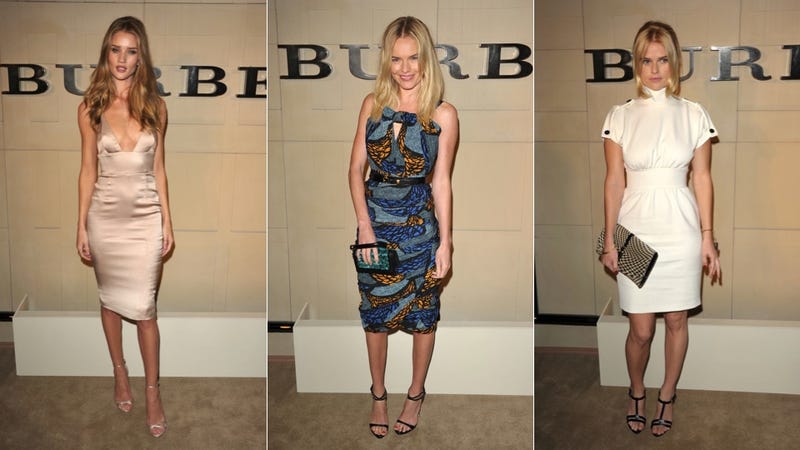 Minimalist fashion was in fine form yesterday at the launch of the new perfume, Burberry Body. Almost everyone came looking chic and classy. There were some exceptions, of course, but surprisingly Solange Knowles was not one of them.
Before we get to the good stuff, I'm going to be a downer for a hot minute. Kate Bosworth gets praised a lot for her style, but I just don't see it. To me, she always looks so safe and predictable and on-trend (I shudder at that horrible word.) Her hair and makeup are always exactly the same. When she tries to look edgy (another horrible fashion buzz word,) it feels calculated, and leaves me cold. I want clothing that emerges from the hot loins of creativity and passion! Anyway, the dress is all right, although it seems like a weak, distilled, and possibly confused homage to "African tribal prints." (Will this awful "tribal trend" ever go away?) I do like that this dress gives the illusion of being a wrap dress, especially with the tie detail at the bust.
Yesterday, I noted that Amber Heard has been showing up everywhere looking like a bombshell, but so has Rosie Huntington-Whiteley. I think she might be one of those people who can't help but give sexy-face. Like her natural resting face is pouty lips, sucked-in cheeks, and heavy-lidded gazing. I guess I'm having a neutral moment right now, because for whatever reason, I'm really digging these red carpet looks where the celeb is basically all in one color, from her hair to her skin to her dress to her shoes. The dress is super sexy, but the simplicity of the cut and the light accessorizing reminds me of Calvin Klein, 90's minimalism at its best. What do you think, dear readers? Convince me down from my neutral dress love.