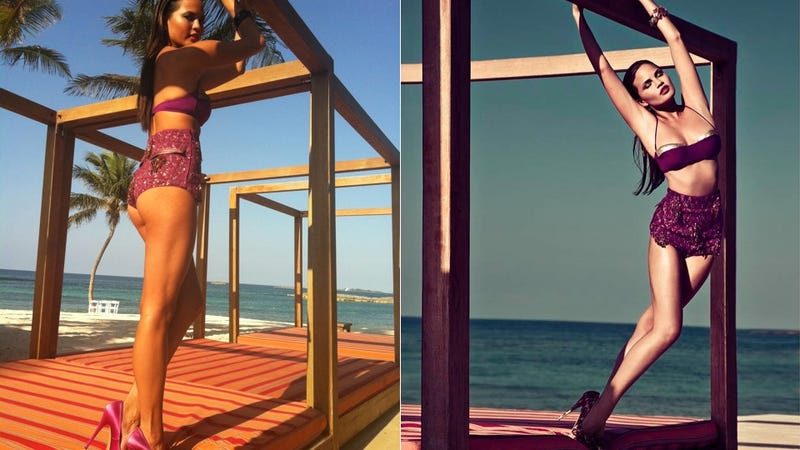 Model Chrissy Teigen, who made her Sports Illustrated: Swimsuit Edition debut last year, can't actually swim. Asked about her worst photo shoot, she says: "I honestly don't have any. Let's face it –- it's not that difficult to be a swimsuit model. I was a backside model for Victoria's Secret's website and it ended up being the most painful thing I have done. It's the four little pictures of different angles if you click on a picture of a bottom — they have people come in and do that. No face involved, just butt. I had to pop my butt out the entire time and I remember that my back was in the most pain of my entire life."
Is it just us or is she pretty awesome? Further evidence of same: for Halloween, Teigen is dressing up as a child pageant star from Toddlers & Tiaras. Her boyfriend, John Legend, is going to go as her creepy stage dad. Teigen is pictured here in an editorial for Vegas magazine, and a behind-the-scenes photo she Tweeted from the shoot. [StyleList]
---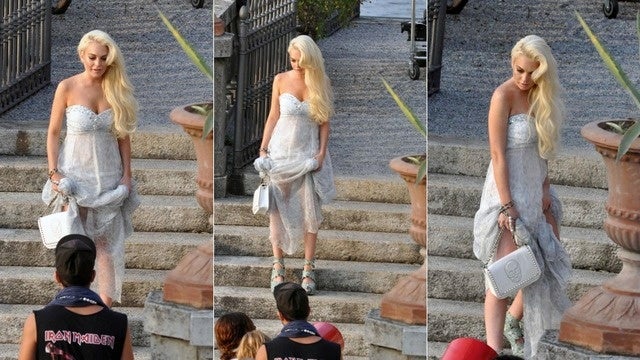 Philipp Plein
, the designer nobody had ever heard of before he paid Lindsay Lohan — a former face of
Miu Miu
(!) just sayin' — $500,000 to be the "face" of his line and attend his fashion show in Milan is now threatening, via an intermediary, to cancel Lohan's contract because she had her probation revoked. [
Fox
]
---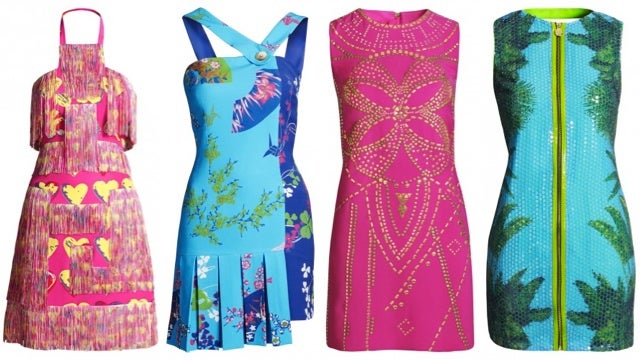 Versace for H&M
, which launches November 17, will range in price from
$19.95
for some costume jewelry to
$299
for a leather jacket and a leather dress. Other dresses are $149 and $249, the women's boots are $149, and a silk purse will set you back $199. Printed silk scarves — which, forgive us, in this product range look perhaps like the least hideous option — are $29.95. [
WWD
]
See the whole collection here. [
Fashionologie
]
---
Here's the trailer for the
Tom Ford
special that's airing on OWN this Sunday. In it, the designer talks about his perfectionism, workaholism, the "terrible low" he experienced after leaving
Gucci
, and the making of
A Single Man
. You can also catch a glimpse of Ford shooting
Crystal Renn
for
Vogue
Paris and Beyoncé walking on Ford's runway. [
Fashionologie
]
---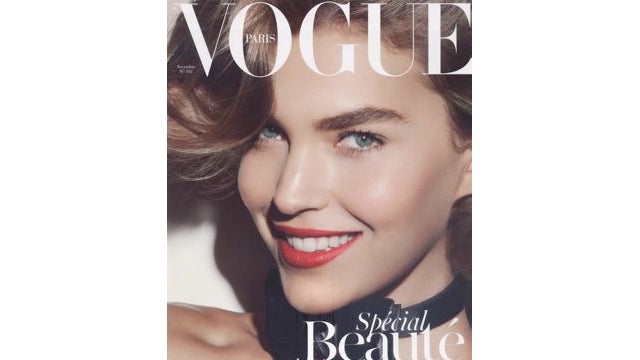 Arizona Muse
nabbed the cover of
Vogue
Paris' November issue, which is all about beauty. [
TFS
]
---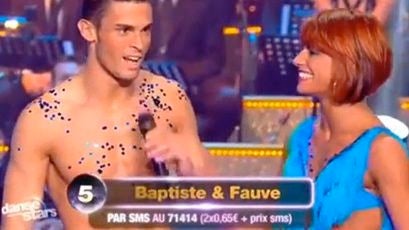 Um, you guys.
Kaiser Karl
's Number One Boy Toy and Jezebel's Official
Favorite
Male Model Turned Pop Star, the one and only
Baptiste Giabiconi
, is on the French version of
Dancing With The Stars
. Dance like the wind, Baptiste! [
Telegraph
]
---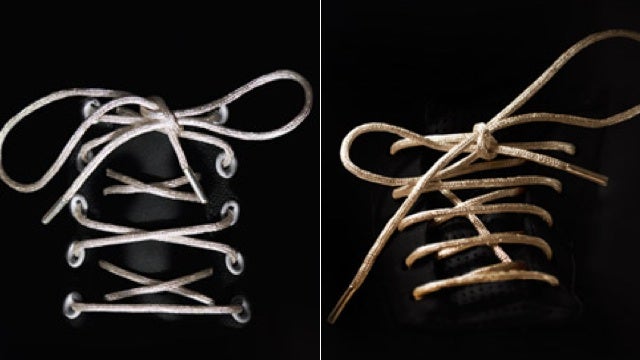 Solid gold shoelaces
, delivered and "laced for you anywhere in the world" —
$19,000
. The feeling of wordlessly advertising your gold bug status with every step — priceless. Also available are Sterling silver shoelaces — $3,000. [
Mr Kennedy
]
---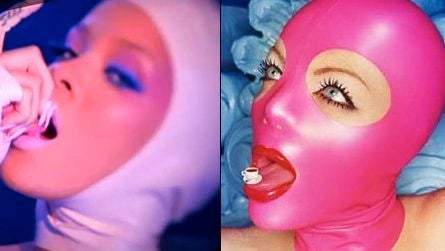 Rihanna and her record label have settled the lawsuit brought by photographer
David LaChapelle
over the similarities between
Rihanna
's "S&M" video and LaChapelle's work. [
P6
]
---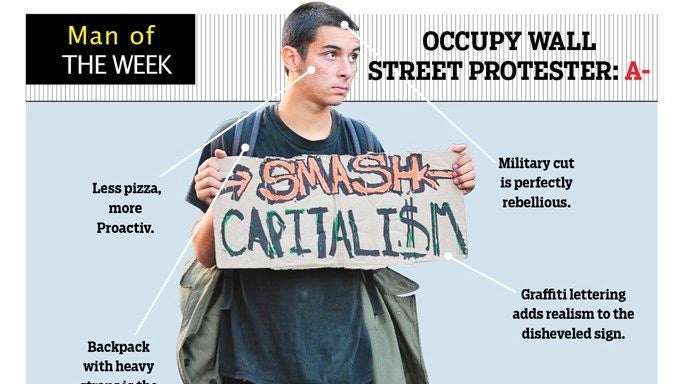 Women's Wear Daily
made
a random Occupy Wall Street protester
its "Man of the Week." The trade gives the protester an overall A- for his "
Rick Owens
-esque skater" style, noting approvingly the military jacket and the rolled-up jeans. But black socks and high-top Chucks are "too trendy for an idealist," apparently. [
WWD
]
---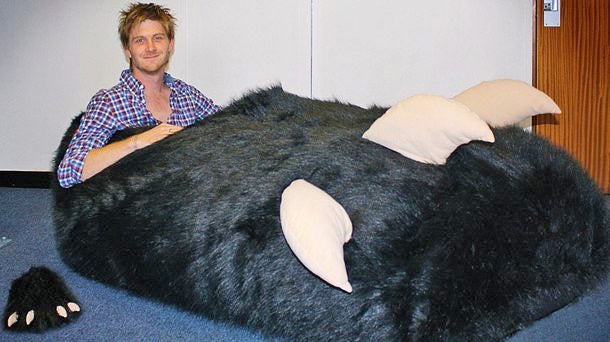 A man with two different sized feet special-ordered a
size 14.5 left slipper
from a Chinese factory. A decimal point was misplaced. This is what arrived. [
Mirror
]
---