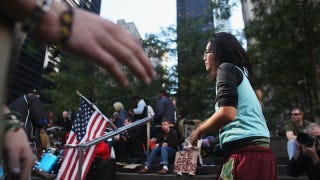 A flasher has been arrested with the help of Occupy Seattle protesters, revealing that while the crowded protests might hide some sex offenders, they might also help catch them.
According to the Seattle Post-Intelligencer, a 29-year-old man was accused of flashing several young girls and masturbating in front of others. Police learned he was attending the Occupy Seattle protests (because he said so on the internet), so they distributed flyers with his picture there. With protesters' help, they were able to find and arrest him.
Some have voiced concerns that criminals would easily be able to hide amid the protesters at Occupy sites. The New York Post interviewed a man identified only as Dave who talked about the warrants out against him and called Occupy Wall Street "as good a spot as any to hide." And a sex offender recently registered the site of Occupy Portland as his address.